The safety trade is fading
---
---
The safety trade is starting to fade.
During times of duress, traders often flee to the perceived safety of gold. During economic booms, they gravitate toward copper, which has more industrial utility. So, watching the ratio of gold to copper can provide a sense of whether traders are looking for safety or a play on economic growth. That's the theory, anyway.
According to Bloomberg, the ratio of gold to copper has dropped to its lowest level in months, as traders shift from safety to growth.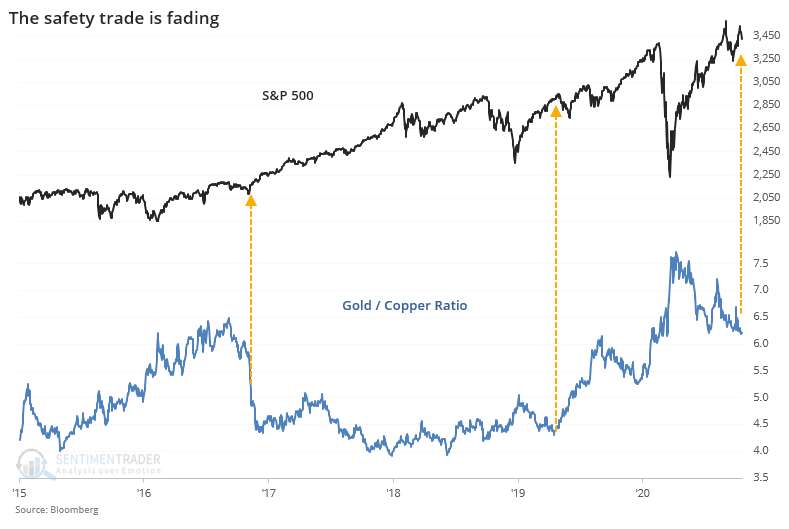 If we believe in the theory behind this ratio, then traders have been anxious for a while. The recent drop in the ratio marked the first time in nearly a year and a half that it had been at a 6-month low, one of the longest streaks in over 30 years.
It should be a good sign that risk aversion is receding, but based on this ratio's measurement of it, not consistent enough to put a lot of weight behind.
---
What else is happening
These are topics we explored in our most recent research. For immediate access with no obligation, sign up for a 30-day free trial now.
Full results for gold, copper and the gold / copper ratio when it fell to a 6-month low
What happened in stocks, bonds, and the dollar when the ratio fell to a new low
The equally-weighted version of the S&P 500 has surged against the cap-weighted version
---
Stat Box

The CME exchange reports that traders turned over more than 500,000 put options on 10-year Treasury note futures on Tuesday. That's in the top 1.5% of all readings since 1999. Over the past 20 days, there has now been an average of 2 puts traded for every 1 call on notes, only the 2nd time it's been this high in the past 5 years.
---
Sentiment from other perspectives
We don't necessarily agree with everything posted here - some of our work might directly contradict it - but it's often worth knowing what others are watching.
1. Investor appetite has been welcoming enough to allow for a lot of big, no-revenue IPOs - Wall Street Journal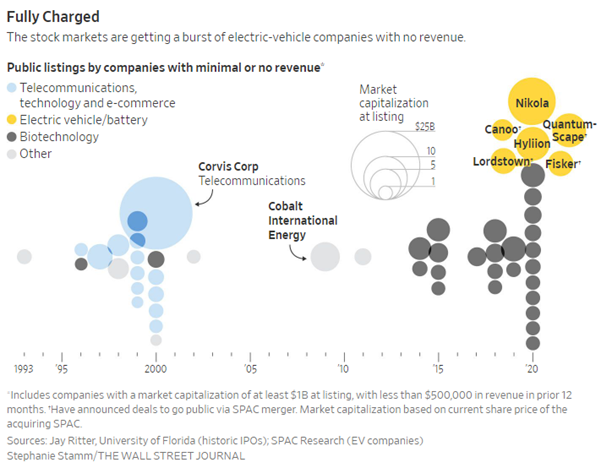 2. It has also been enough to trigger a wave of trading in low-priced stocks - Wall Street Journal
3. In the week ending October 14, investors pulled nearly $20 billion from domestic mutual funds, the 7th-largest outflow in 13 years - ICI

Related Posts:
---
Tagged As:
The post titled The safety trade is fading was originally published as on SentimenTrader.com on 2020-10-22.
At SentimenTrader.com, our service is not focused on market timing per se, but rather risk management. That may be a distinction without a difference, but it's how we approach the markets. We study signs that suggest it is time to raise or lower market exposure as a function of risk relative to probable reward. It is all about risk-adjusted expectations given existing evidence. Learn more about our service , research, models and indicators.
Follow us on Twitter for up to the minute analysis of market action.
Follow @sentimentrader