The smart money still isn't selling
---
---
By mid-March, Dumb Money Confidence was nearing record lows, and Smart Money Confidence a 5-year high. While the former has rebounded along with prices, the latter hasn't come down by much, which is surprising.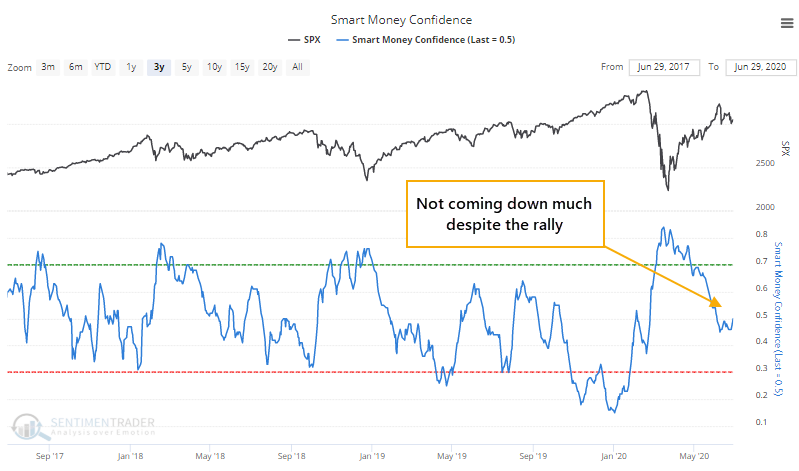 We've noted the main reasons why a couple of times - hedgers are still holding a large net long position in equity index futures, and corporate insiders have been buying up shares. That still hasn't changed much.
Like they did in 2019, hedgers bought the decline in prices aggressively then held on even as stocks rallied. They're doing the same thing this time, but are not only holding on, they're buying more. This is extremely unusual.
Along with hedgers, corporate insiders not only stepped up in March, but they've kept at it. The ratio of open market buys to sells in S&P 500 companies over the past six months is the highest since late 2011. Thanks can be given to a couple of sectors in particular, both of which are seeing among the highest buy/sell ratios in years.
Smart money types of indicators tend to be longer-term as opposed to dumb money ones that are mostly shorter-term. The high level of Dumb Money Confidence is a shorter-term worry, while signs of persistent smart money buying are more comforting longer-term.
This is an abridged version of our recent reports and notes. For immediate access with no obligation, sign up for a 30-day free trial now.
We also looked at:
A more in-depth look at smart money futures traders and corporate insider buys/sells
U.S. companies are raising profit estimates at a record pace
Wall Street analysts are raising price targets and earnings estimates, too
The Australian dollar has enjoyed a Golden Cross
So has the euro
What happens to stocks, the dollar, and interest rates when consumers think rates will decline
Optimism on internet stocks is nearing a record high

The post titled The smart money still isn't selling was originally published as on SentimenTrader.com on 2020-07-02.
At SentimenTrader.com, our service is not focused on market timing per se, but rather risk management. That may be a distinction without a difference, but it's how we approach the markets. We study signs that suggest it is time to raise or lower market exposure as a function of risk relative to probable reward. It is all about risk-adjusted expectations given existing evidence. Learn more about our service , research, models and indicators.
Follow us on Twitter for up to the minute analysis of market action.
Follow @sentimentrader