The Stock-Bond Relationship Is Out Of Whack
---
---
Strained relationship
The drop in stocks over the past week didn't happen in isolation, as traders fled to the perceived safety of the bond market. That moved the Stock/Bond Ratio to an extreme level, even while the S&P remains in a generally positive environment.

This has typically resolved in higher prices for the stocks, with gains 82% of the time during the next month.
Major reversal
Early in Wednesday's session, stocks were trading below their lowest close of at least the past month, then enjoyed enough buying interest to completely reverse the loss. This marks one of the most impressive reversals in the S&P futures during a rising market.
For the S&P 500 futures, this was the first time since April 2018 that it fell more than 1% intraday, eclipsing its lowest close of the past 30 days, then reversing enough to close up for the day. In the two weeks after similar reversals, the S&P added to gains 93% of the time.
Korean stocks heading south
Markets in the U.S. and China get most of the attention and headlines due to the trade war, but others have been suffering more. South Korea's Kospi index has suffered severe selling pressure, and an aggregate of breadth panic readings just hit the highest level since October 2008.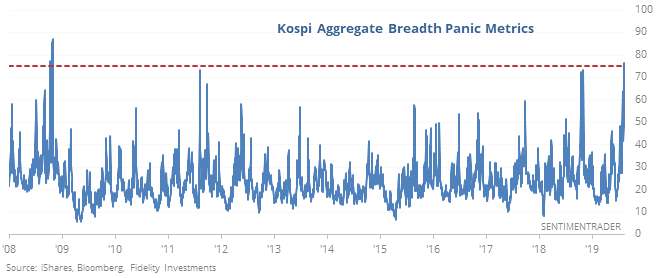 More bond bulls
The Bond Optimism Index has moved to 75%, the highest level in two years. Readings this high have preceded further gains in 10-year Treasury futures during the next month only 37% of the time. Since the inception of the TLT fund, it has enjoyed gains only 38% of the time, with an average return of -1%.
This post was an abridged version of our previous day's Daily Report. For full access, sign up for a 30-day free trial now.

Related Posts:
---
Tagged As:
The post titled The Stock-Bond Relationship Is Out Of Whack was originally published as on SentimenTrader.com on 2019-08-08.
At SentimenTrader.com, our service is not focused on market timing per se, but rather risk management. That may be a distinction without a difference, but it's how we approach the markets. We study signs that suggest it is time to raise or lower market exposure as a function of risk relative to probable reward. It is all about risk-adjusted expectations given existing evidence. Learn more about our service , research, models and indicators.
Follow us on Twitter for up to the minute analysis of market action.
Follow @sentimentrader