The World is Disappointing to Economists
---
---
In May, economic surprises in the U.S. turned negative for the first time in almost a year. They rebounded briefly then surprises turned even more negative as economists didn't lower their forecasts enough.
Worldwide, however, economic reports had still been coming in better than economists' forecasts...until last week. For the first time in over a year, Citi's Global Economic Surprise Index turned negative.
Last week's reading ended the 2nd-longest streak in positive territory in nearly 20 years. The only streak that exceeded the current one, or even came close, was the one following the recovery from the Great Financial Crisis.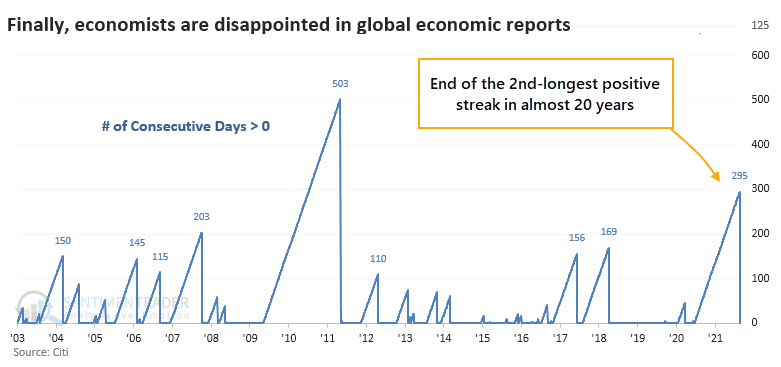 We've seen time and again that the economy does not equal the market, especially when we're dealing with stocks. But for the MSCI World Index (excluding the U.S.), forward returns were poor after the ends of positive economic surprises, especially over the next 3 months.
Among other assets, there wasn't a very consistent message. The U.S. dollar did okay shorter-term, then showed losses in the months ahead.

---
What else we're looking at
Full details on stocks, bond, gold, commodity, and Treasury returns after global economic surprises turn negative
What happens when U.S. economic surprises badly lag the world
The Russell 2000 triggered a momentum reversal signal
A look at absolute and relative trends in industry, sector, and country ETFs
What happens to soybeans in September
---
Stat box



Over the past 120 years, an investor in the Dow Jones Industrial Average who only held a position during September and October would have realized a loss of 74% of her capital.
---
Etcetera
Curling up. For only the 5th time in more than 20 years, a 20-day average of Energy stocks trading above their 50-day moving averages is curling up from zero.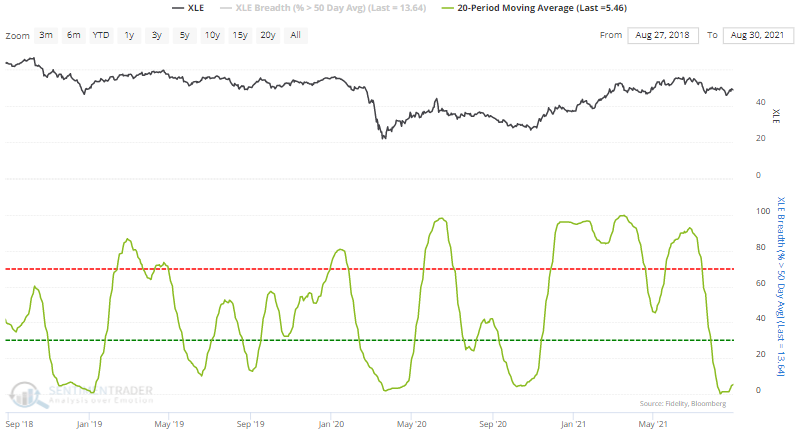 Don't cry for me. Over the past 5 sessions, the Optimism Index on the ARGT Argentina fund has averaged more than 85%, the highest in a year.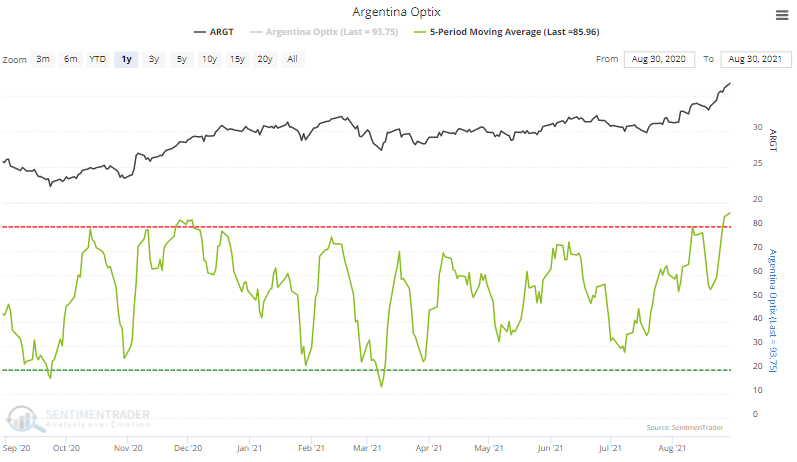 The other white metal. Commercial hedgers in palladium futures are holding more open interest net long than short for the 1st time in 15 years.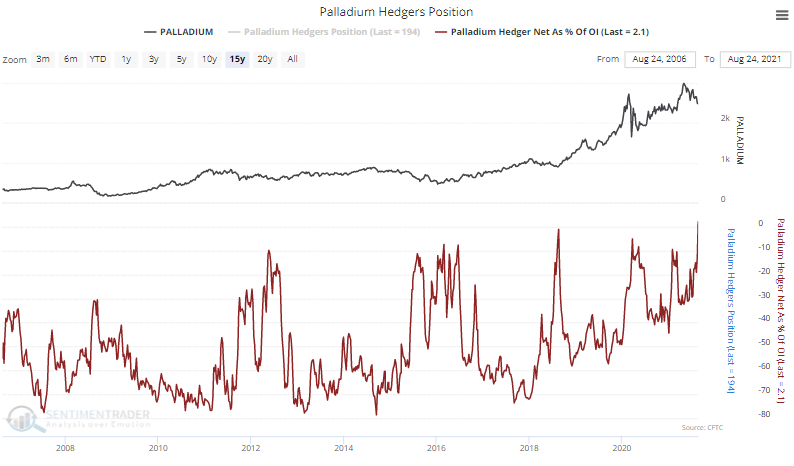 Related Posts:
---
Tagged As:
The post titled The World is Disappointing to Economists was originally published as on SentimenTrader.com on 2021-08-31.
At SentimenTrader.com, our service is not focused on market timing per se, but rather risk management. That may be a distinction without a difference, but it's how we approach the markets. We study signs that suggest it is time to raise or lower market exposure as a function of risk relative to probable reward. It is all about risk-adjusted expectations given existing evidence. Learn more about our service , research, models and indicators.
Follow us on Twitter for up to the minute analysis of market action.
Follow @sentimentrader