There has been a breakout in breakouts
---
---
This week has been one for the record books, in a number of different ways. Most spectacularly, the surge in small-cap stocks that pushed the Russell 2000 to its best-ever gain while hitting a new high.
The record-breaking rally in that index didn't occur in isolation, of course - the index rallied because many stocks within the index did. And enough of them rallied well enough to tickle 52-week highs. More than 15% of stocks within the Russell managed to score a fresh high on Wednesday, the most since 2016.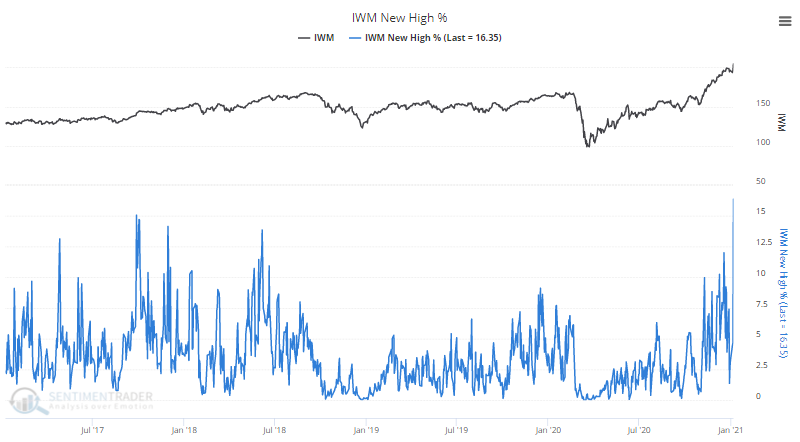 There was a jump in other metrics that track the underlying health and momentum of small-caps. If we create a composite breadth indicator out of them all, then Wednesday's reading was the highest in several years. When this composite first jumped above 50, small-cap stocks tended to take a 1-2 week breather (except for the last 2 instances), but over the next year, the Russell 2000 showed a positive return every time.
---
What else is happening
These are topics we explored in our most recent research. For immediate access with no obligation, sign up for a 30-day free trial now.
Returns in the Russell 2000 and S&P 500 after composite breadth thrusts
What happens when there is a multi-year breakout in the percentage of securities at new highs
Looking at the makeup of sectors dominating the new high list
All industries and sectors have rising 200-day moving averages...and most stocks do, too
What Thursday's odd readings mean for forward returns
Looking at a comprehensive overall market breadth composite and what it says about the recent high in the S&P 500
Introducing a "Fed thrust" indicator
Is this a trend change in the U.S. dollar?
Looking at other huge 3-day drops in gold
What stocks have done when Nonfarm Payroll reports miss estimates
---
Stat Box

As of last week, "smart money" commercial hedgers were net short 28% of the open interest in corn futures, the most in 25 years. The only period where they were close to being this short was in May 2011.
---
Sentiment from other perspectives
We don't necessarily agree with everything posted here - some of our work might directly contradict it - but it's often worth knowing what others are watching.
1. Well, this is kind of insane. The picture says it all. [Citi]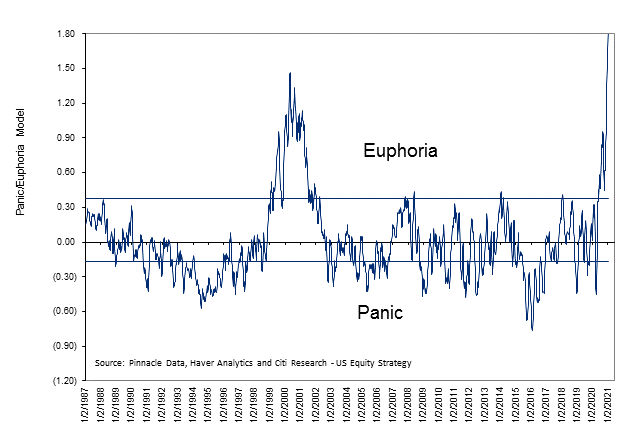 2. All that euphoria has helped trigger a move back into equity funds, with the largest 2-month inflow (as a percentage of total assets) in 7 years. [Deutche Bank via Daily Shot]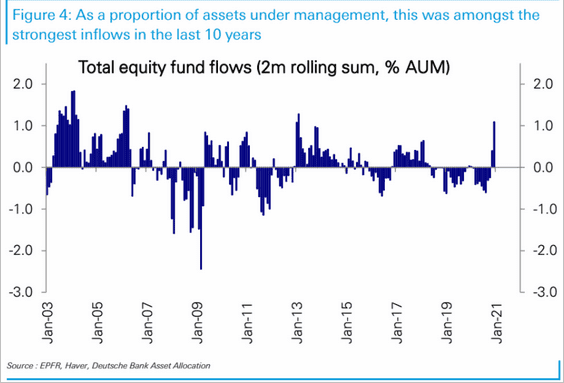 3. What do you do when you expect stocks to rise? Tell people about it, of course! Bullish sentiment among Twitter users is getting high. [Callum Thomas, Topdown Charts]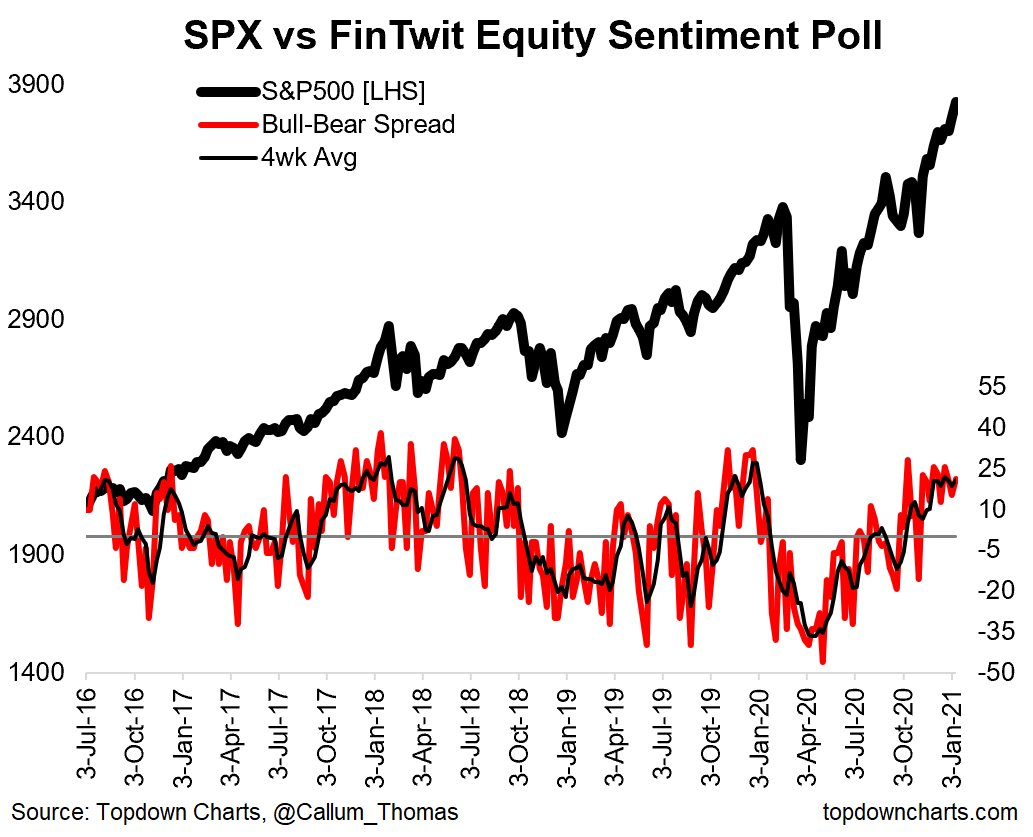 Related Posts:
---
Tagged As:
The post titled There has been a breakout in breakouts was originally published as on SentimenTrader.com on 2021-01-11.
At SentimenTrader.com, our service is not focused on market timing per se, but rather risk management. That may be a distinction without a difference, but it's how we approach the markets. We study signs that suggest it is time to raise or lower market exposure as a function of risk relative to probable reward. It is all about risk-adjusted expectations given existing evidence. Learn more about our service , research, models and indicators.
Follow us on Twitter for up to the minute analysis of market action.
Follow @sentimentrader