These Bonds Just Triggered a Buy Signal
---
---
Bonds look like a buy again. Some of them, anyway.
Investment-grade bonds registered a new breadth thrust buy signal late last week. The new signal now flips Dean's investment-grade timing model to the long side after having been on the sidelines since January.
In a nutshell, the model uses bond market breadth data to identify trend changes in advance of price action alone. If there is a sudden thrust of advancing bonds relative to declining bonds following a lull, then it will trigger a signal. Walter Deemer, a respected market strategist, calls this "breakaway momentum."
The investment-grade bond timing model is more sensitive to movements in Treasury yields, whereas high-yield bonds will be more sensitive to economic/credit conditions. The recent decline in Treasury yields is playing a role in the new signal. We can see the last few years of history below.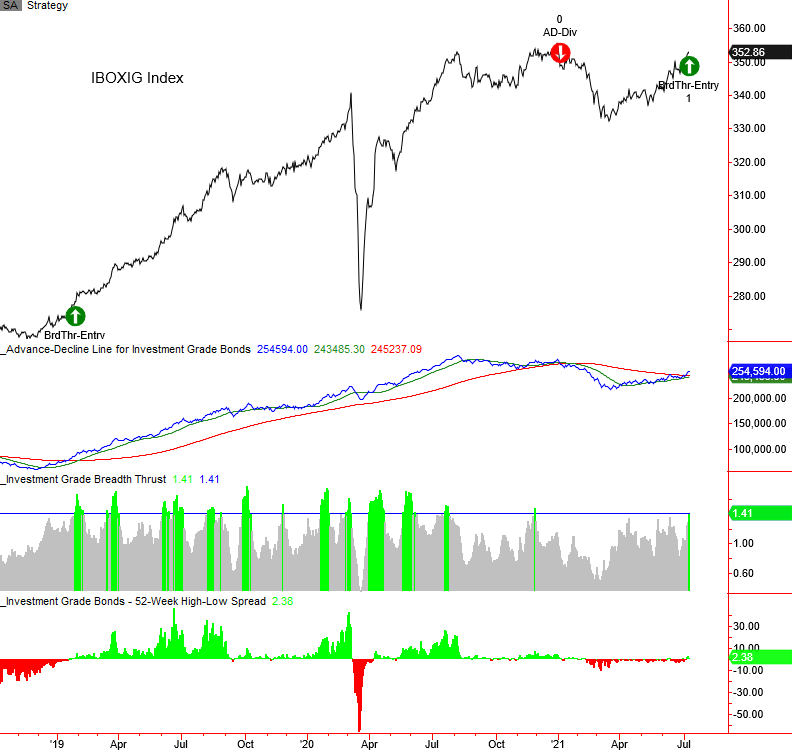 While we should respect the message this can provide as it relates to the economy, credit conditions, and the stock market, we have to keep in mind that the data history is limited and the sample size is small.

---
What else we're looking at
Stats showing the success or all prior investment-grade bond market timing signals
What thrusts have meant for bonds and stocks
The U.S. dollar is at a price and seasonality crossroads
What the trend in leading economic indicators means for the Real Estate sector
---
Stat box



Some Asian stocks have been getting hit hard, enough to push nearly 60% of stocks in the Kospi Index to 4-week lows. That's the most since March 2020.
---
Etcetera
Billowing bonds. This week the BND Optix hit a yearly high, reaching 89 on Tuesday. Past returns were lackluster when the Optix crossed above 80.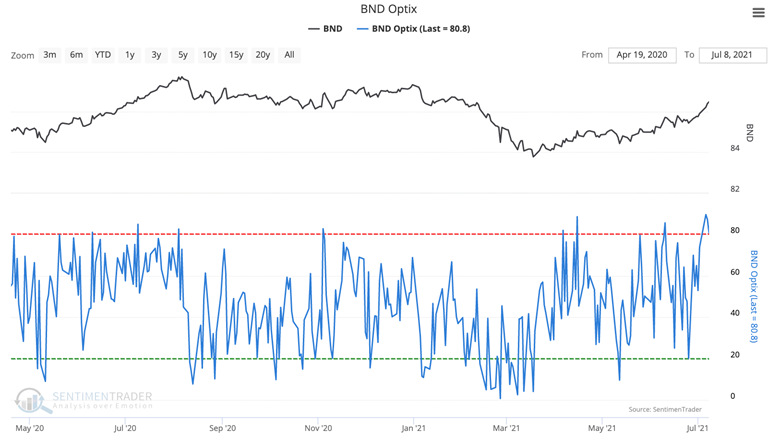 Sinking ship? A Titanic Syndrome just triggered on the Nasdaq exchange for the second time in 2021. This technical warning sign was created by Bill Omaha in the 1960s. It highlights a condition when stocks have recently been at a high, and then there is a sudden jump in new 52-week lows versus highs.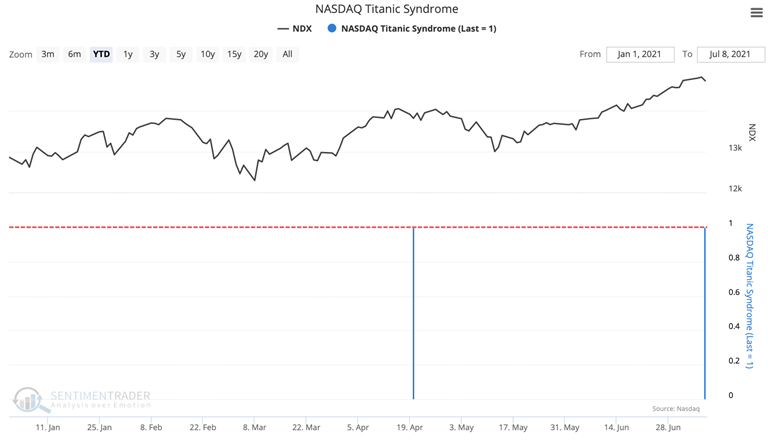 Excuse you. Natural Gas optimism recently reached its highest point in 2021. According to our Backtest Engine, in the past three years when Optix is above 65, natural gas futures prices have consistently declined.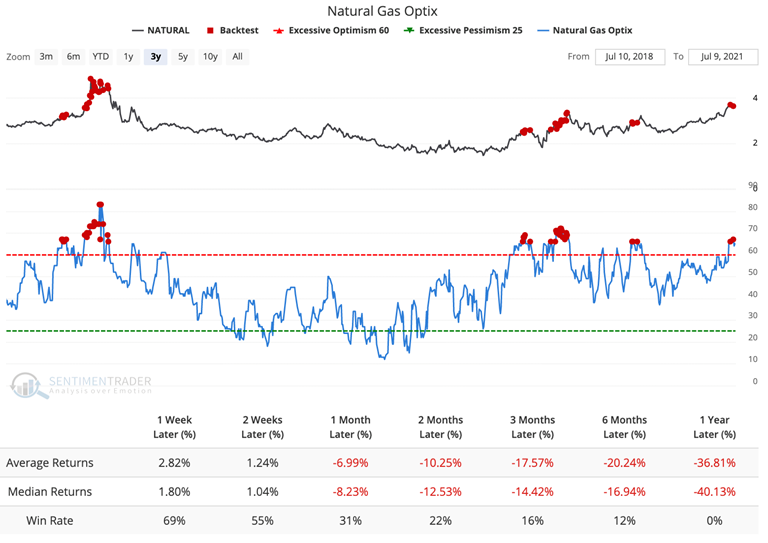 Our

Backtest Engine

allows users to test virtually every indicator our service offers in seconds. You can change indexes, parameters, trends, and lookback periods and see how it impacts future returns. We're working hard on version 2.0 which will allow even more flexibility.

The post titled These Bonds Just Triggered a Buy Signal was originally published as on SentimenTrader.com on 2021-07-12.
At SentimenTrader.com, our service is not focused on market timing per se, but rather risk management. That may be a distinction without a difference, but it's how we approach the markets. We study signs that suggest it is time to raise or lower market exposure as a function of risk relative to probable reward. It is all about risk-adjusted expectations given existing evidence. Learn more about our service , research, models and indicators.
Follow us on Twitter for up to the minute analysis of market action.
Follow @sentimentrader