This Has Happened To Tech Only Twice Before
---
---
From first to worst
Stocks have lost one of their biggest drivers. Tech stocks have powered much of the rally through April, and then fell hard. The sector was leading the S&P 500's 11 major sectors, and then fell to the worst among them over the past few weeks.

That does not happen often, and when it did, it didn't prove to be the undoing of that sector, or of the broader market.
The sectors that go from best-performer YTD all the way down to the worst over the past three weeks have usually gone on to revert to their excellent performance and regain their crown as best-performer over the rest of the year.
Spreading losses
Emerging market stocks have been hit hard over the past few weeks. Fewer than 20% of them are now above their 50-day averages, the fewest in more than six months. Underlying selling pressure has been so heavy that the 20-day McClellan Oscillator is nearing a 25-year low.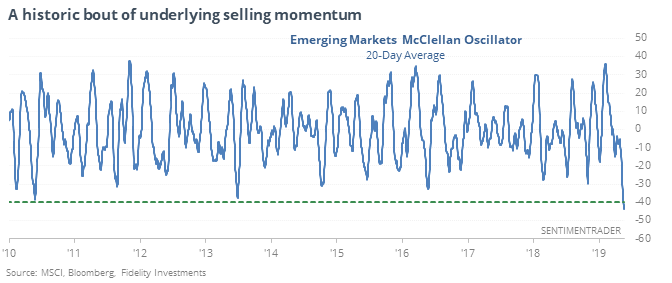 These bouts of severe underlying selling momentum typically led to rebounds, with one major failure.
Another little thrust
One week ago, Up Volume fell to its first oversold level since a powerful breadth thrust early this year. Since then, it has recorded two high readings and the average has climbed above 51.5%. When the S&P was at least several percent from its high at the time, these kinds of recoveries led to further gains 79% of the time over the next month.
Semi sweet
The 10-day Optimism Index on the SMH semiconductor fund is so low it's been matched only twice before, in August 2015 and January 2016. The fund, along with SOXX, has now enjoyed an "island reversal", hitting a 50-day low yesterday with 1% gaps on either side of it. That, too, has happened only twice before.
This post was an abridged version of our previous day's Daily Report. For full access, sign up for a 30-day free trial now.

Related Posts:
---
Tagged As:
The post titled This Has Happened To Tech Only Twice Before was originally published as on SentimenTrader.com on 2019-05-22.
At SentimenTrader.com, our service is not focused on market timing per se, but rather risk management. That may be a distinction without a difference, but it's how we approach the markets. We study signs that suggest it is time to raise or lower market exposure as a function of risk relative to probable reward. It is all about risk-adjusted expectations given existing evidence. Learn more about our service , research, models and indicators.
Follow us on Twitter for up to the minute analysis of market action.
Follow @sentimentrader