This Is One Of Tech's Quickest Recoveries
---
---
New highs, but...
The S&P jumped to a record high along with several other indexes on Monday (and Tuesday) but fewer stocks were coming along for the ride both days. The percentage of stocks on the NYSE and within the S&P itself has shrunk from when the indexes moved toward new highs in June.
That triggers a negative divergence with the S&P. We've seen many times in the past, though, that not all divergences are created equal. Some have consistently preceded weak (or strong) markets, others have been mixed, and still others have preceded performance counter to what we should expect.

This one is more of the latter than anything.
Tech's quick trip
The tech stocks within the S&P 500 have gone from correction territory to new high in only 20 days. That's about 10 days faster than the average since 1990.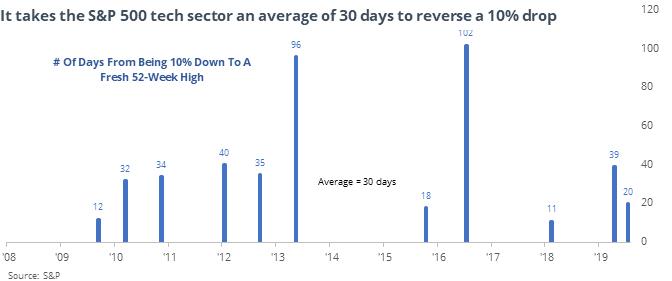 Other times these stocks cycled quickly to a new high, returns were mixed until a year later, when they were positive. It was a mostly good sign for the broader market, too.
Golden regime
Gold sentiment, like almost every other asset, acts differently in bull markets than it does in bear markets. Currently it's still behaving like it has over the past 7 years, so we need to watch to see if optimism has a chance to reach higher highs.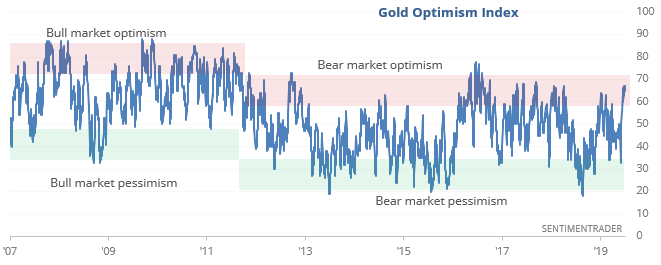 Also, over the past two days, gold suffered its largest loss in a year soon after hitting a 52-week high, then it rocketed to its largest gain in more than 6 months.
This post was an abridged version of our previous day's Daily Report. For full access, sign up for a 30-day free trial now.

Related Posts:
---
Tagged As:
The post titled This Is One Of Tech's Quickest Recoveries was originally published as on SentimenTrader.com on 2019-07-03.
At SentimenTrader.com, our service is not focused on market timing per se, but rather risk management. That may be a distinction without a difference, but it's how we approach the markets. We study signs that suggest it is time to raise or lower market exposure as a function of risk relative to probable reward. It is all about risk-adjusted expectations given existing evidence. Learn more about our service , research, models and indicators.
Follow us on Twitter for up to the minute analysis of market action.
Follow @sentimentrader