This major divergence has never happened before
---
---
For months, we've seen that sentiment has oscillated around extreme levels of optimism, yet stocks were holding firm. Not just the popular indexes, but most stocks, industries, sectors, even global markets.
That has started to shift in recent days.
It's too early to tell whether this can morph into something larger, but already there are splits that we haven't seen for a long time. As Bloomberg noted, around 80% of S&P 500 members are still holding above their 50-day moving averages, but within the Nasdaq Composite and Russell 2000, it is a vastly different story.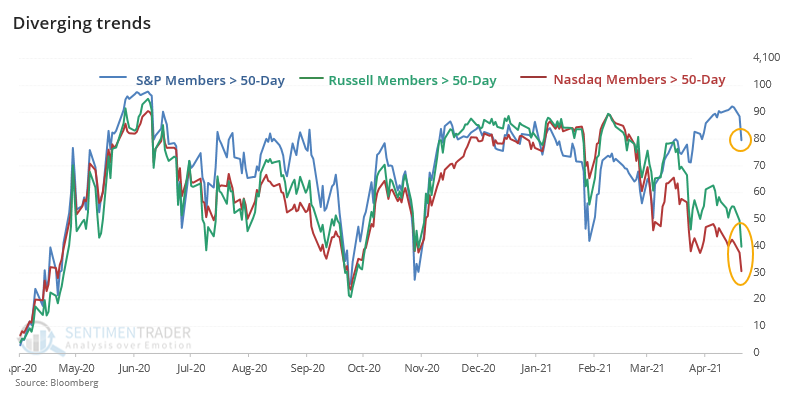 Going back more than 25 years, there has never been a day - until Tuesday - when 80% of S&P 500 members were above their 50-day averages at the same time so few Nasdaq and Russell members were above their own averages.
With Wednesday's rally, the picture didn't change much. The S&P had more than 85% of stocks above their 50-day averages, while both the Nasdaq Composite and Russell 2000 had fewer than 50% of members above their 50-day.
That's never happened before.

Stat Box



For the 1st time since we began computing this over 20 years ago,

60%

or more of our core indicators are showing excess optimism while 0% are showing excess pessimism.
What else we're looking at
When relaxing the divergence parameters above, we see a handful of historical comparisons
Forward returns in the S&P 500, Nasdaq Composite, and Russell 2000 after big divergences
Taking a looking at midcap stocks during the summer months
A review of the TCTM Risk Warning Model and how likely an imminent signal is

The post titled This major divergence has never happened before was originally published as on SentimenTrader.com on 2021-04-22.
At SentimenTrader.com, our service is not focused on market timing per se, but rather risk management. That may be a distinction without a difference, but it's how we approach the markets. We study signs that suggest it is time to raise or lower market exposure as a function of risk relative to probable reward. It is all about risk-adjusted expectations given existing evidence. Learn more about our service , research, models and indicators.
Follow us on Twitter for up to the minute analysis of market action.
Follow @sentimentrader