Traders Are Panicking The Most Since The Financial Crisis
---
---
More momentum miscues
Signs of waning momentum are everywhere. One of the more impressive signs of intense underlying buying was in the Dow Industrials, where the McClellan Summation Index held above 1,000 for nearly three months, until now.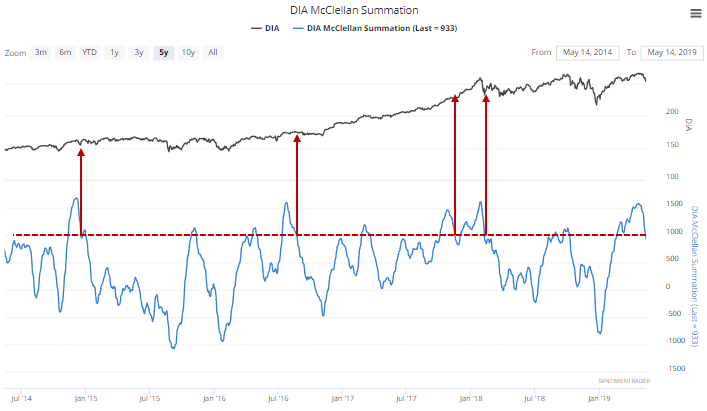 Other times that extreme momentum finally ended over the past 20 years, it saw limited downside in the months ahead.
Abandon ship
Losses in the major averages over the past couple of weeks have been relatively mild as selloffs go. But investors have been spooked, perhaps by persistent opening losses. An array of index, sector, and country ETFs have lost more than $20 billion in assets, as pre-market losses have neared the extremes seen during the financial crisis.

Not just the Dow
Long-term breadth momentum has rolled over not just in the Dow, but also in many overseas indexes. For the Hang Seng and Shanghai Composite, their long runs above the zero line have ended. While that has been more of a good sign than bad in U.S. indexes, for the Shanghai, in particular, that has led to mostly poor results going forward.
Getting better
Smart Money Confidence is over 50% for the first time in more than 3 months. Other times it took at least 3 months to get over 50%, stocks struggled a bit in the short-term, but were higher 71% of the time two months later. That's not extraordinary, but it's a lot better than a month ago.
This post was an abridged version of our previous day's Daily Report. For full access, sign up for a 30-day free trial now.

Related Posts:
---
Tagged As:
The post titled Traders Are Panicking The Most Since The Financial Crisis was originally published as on SentimenTrader.com on 2019-05-16.
At SentimenTrader.com, our service is not focused on market timing per se, but rather risk management. That may be a distinction without a difference, but it's how we approach the markets. We study signs that suggest it is time to raise or lower market exposure as a function of risk relative to probable reward. It is all about risk-adjusted expectations given existing evidence. Learn more about our service , research, models and indicators.
Follow us on Twitter for up to the minute analysis of market action.
Follow @sentimentrader