Unshakable Confidence; Immense Last-Hour Selling Pressure
---
---
This is an abridged version of our Daily Report.
Unshakable
Consumer Confidence rose in October despite a bad month for stocks. The S&P dropped more than 5%, and not only did Confidence hit more than a 1-year high, it's well over 100. Forward returns here were decent in the medium- to long-term, with especially impressive results over the next year. But Confidence at a "1-year high" isn't really that high of a hurdle. That could still mean a relatively low Confidence level, if it's emerging from a low reading, like it was after the financial crisis.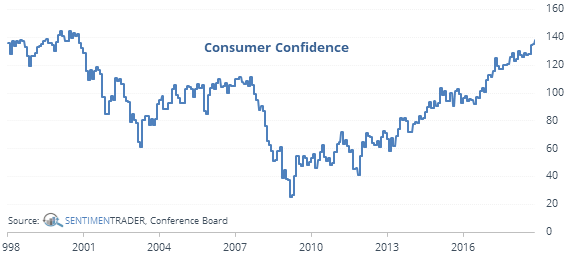 But even a relatively high reading in Consumer Confidence in the face of falling stock prices is not an automatic sell signal - knee-jerk contrarianism is usually wrong-footed. Behavior like this has led to decent returns, but such a high Confidence level as we're seeing now likely cancels that out.
Last hour collapse
Over the past 30 days, selling in the last hour of the trading day has been among the most severe in 35 years. Since the 2009 bottom, only August 2011 can match what we've seen lately.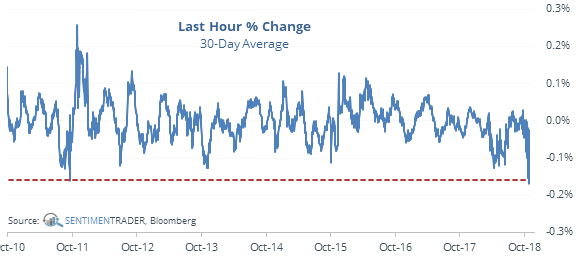 Other times it was this bad, stocks rebounded over the next month.
Wide spread
Since 1999, there have been 31 days, besides today, when Smart Money Confidence was above 70% and Dumb Money Confidence below 20%. All 31 closed higher a month later, averaging 6.5%.
Lotsa puts
The 10-day average of the Total Put/Call Ratio is above 1.15. The Backtest Engine shows there have been 154 days when it was this high, leading to a positive return in the S&P over the next two months after 138 of them, a 90% win rate.

Related Posts:
---
Tagged As:
The post titled Unshakable Confidence; Immense Last-Hour Selling Pressure was originally published as on SentimenTrader.com on 2018-10-31.
At SentimenTrader.com, our service is not focused on market timing per se, but rather risk management. That may be a distinction without a difference, but it's how we approach the markets. We study signs that suggest it is time to raise or lower market exposure as a function of risk relative to probable reward. It is all about risk-adjusted expectations given existing evidence. Learn more about our service , research, models and indicators.
Follow us on Twitter for up to the minute analysis of market action.
Follow @sentimentrader