Warnings spike as complacency ends
---
---
Warnings spike
Monday's selling pressure was enough to push many stocks to 52-week lows. Coming within a week of a day when 52-week highs dominated, this triggered another set of warnings.
If you can get past the silly names, and focus on what they're saying, it's worth noting since they're designed to highlight periods when there is heavy turmoil underlying the mask of the indexes. While the origin of the signals include data-mining, they've been "in the wild" for decades and have been just as effective.

That doesn't mean they're perfect - they failed to precede any weakness in early 2017 and late 2019. But they have a long history of preceding dangerous market conditions, with poor risk relative to reward up to 6 months later.
Tech's relief
Tech - a more volatile sector than the broader stock market - has ended its uptrend, at least by one definition.
Some traders use the market's RSI and whether the RSI is above or below 50 to determine trend. The NASDAQ 100's RSI is no longer above 50 after the longest streak ever above 50: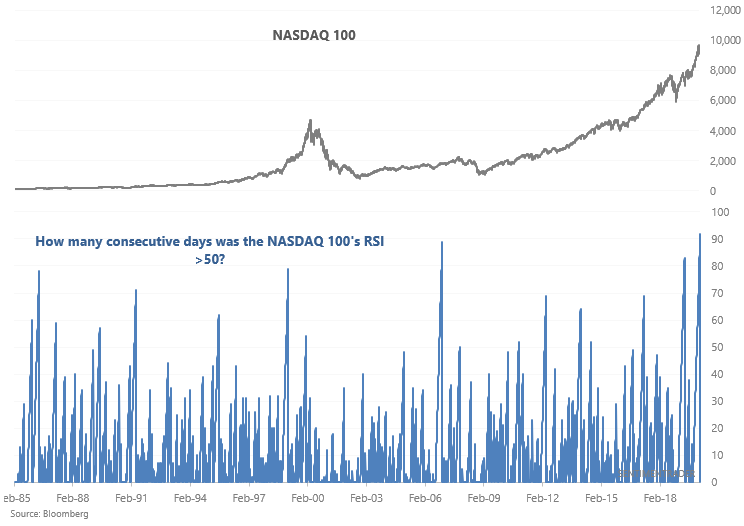 When similar streaks of bullish momentum ended, the NASDAQ 100 usually chopped sideways or fell over the next 3 months. But after that, strong momentum usually beget more gains, and it was especially positive for the broader market, defined by the S&P 500.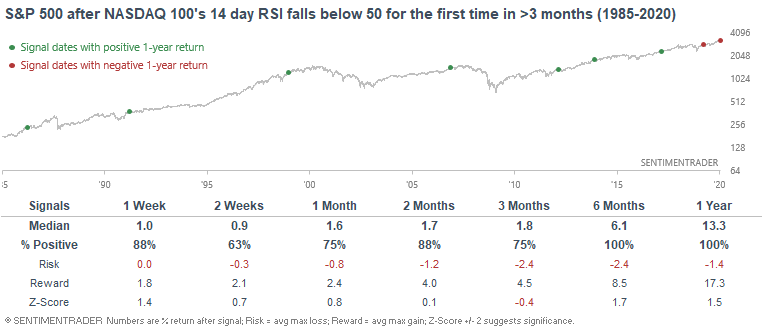 This is an abridged version of our recent reports and notes. For immediate access with no obligation, sign up for a 30-day free trial now.
We also looked at:
What happens after the largest 1-day changes in the VIX
The VIX Term Structure has inverted
The NYSE ended a streak of 6 months without a 90% down volume day
The S&P ended a streak of more than 90 days above its 50-day average
Small traders have continued to buy speculative call options
Last week saw a big spike in buying climaxes
S&P 500 stocks have seen a big jump in sell signals
The gold/silver ratio is spiking

Related Posts:
---
Tagged As:
The post titled Warnings spike as complacency ends was originally published as on SentimenTrader.com on 2020-02-25.
At SentimenTrader.com, our service is not focused on market timing per se, but rather risk management. That may be a distinction without a difference, but it's how we approach the markets. We study signs that suggest it is time to raise or lower market exposure as a function of risk relative to probable reward. It is all about risk-adjusted expectations given existing evidence. Learn more about our service , research, models and indicators.
Follow us on Twitter for up to the minute analysis of market action.
Follow @sentimentrader