What Happens When Oil Prices Show Historic Momentum
---
---
Oil prices have been on a historic run.
Whatever your opinion is about the reasons for its rise, the implications for consumers, or the likelihood of the rally continuing, we should appreciate just how much momentum has entered the market.
Crude oil has now closed above its 10-day moving average for 21 consecutive days, a full month. The chart below shows that the streak has surpassed 21 days four times since May 2020. The commodity's ability to hold above its short-term moving average looks similar to the period between 2004-06, the last secular bull market environment for oil.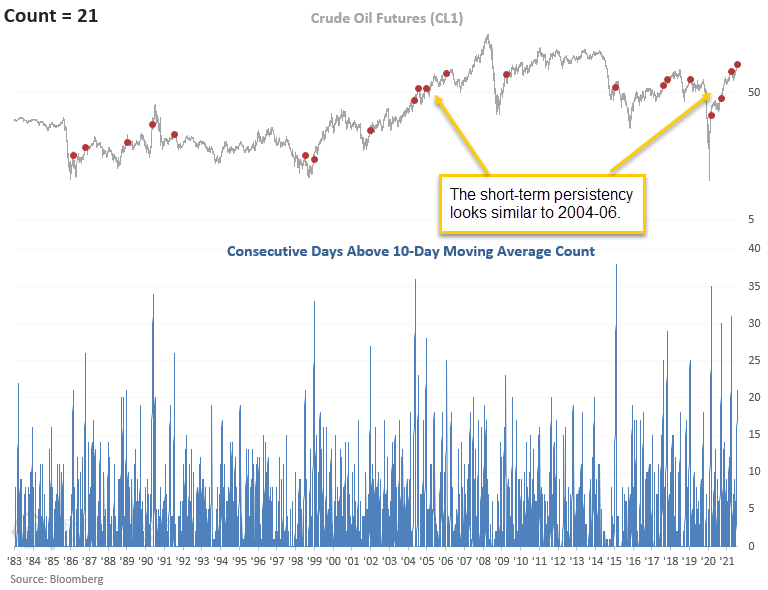 After similar streaks above its moving average, short to intermediate-term forward returns in oil were weak when compared to historical averages. Even during secular bull markets, corrections should be expected when conditions get stretched.
Out of 20 signals since 1983, only 7 showed a positive return over the next month, and the average drawdown of -4.7% was above the average maximum gain.

---
What else we're looking at
Full returns after runs above its 10-day moving average in oil
How returns were impacted when oil was trading at a new high
Looking at returns after a long run above oil's long-term moving average
Using the copper/gold ratio to assess the probability of an imminent recession
---
Stat box



With all the excitement over bitcoin ETFs, shares outstanding in the GLD gold fund have continued to dwindle and are now down to 336 million shares, the lowest since April 2020.
---
Etcetera
Sentiment is moving higher. Optimism toward the stocks of companies that move stuff for people in the U.S. has soared in recent days. The 5-day average Optimism Index on IYT has crossed 78%, the 3rd-highest level of the past year.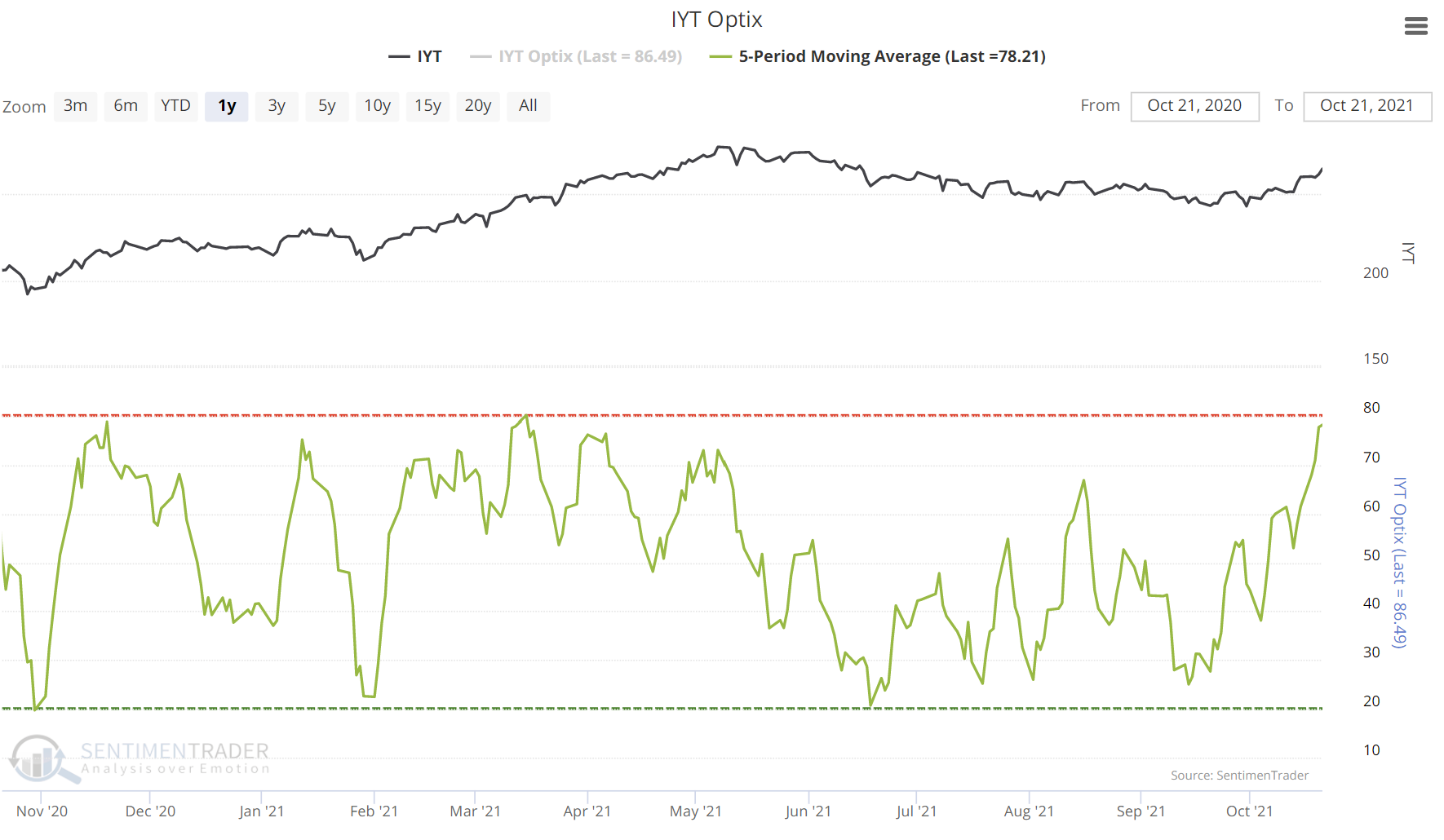 Social pariah. An analysis of sentiment among social media users shows that 38% of tweets about junior gold mining stocks have a negative tone over the past week, among the highest levels in 3 years.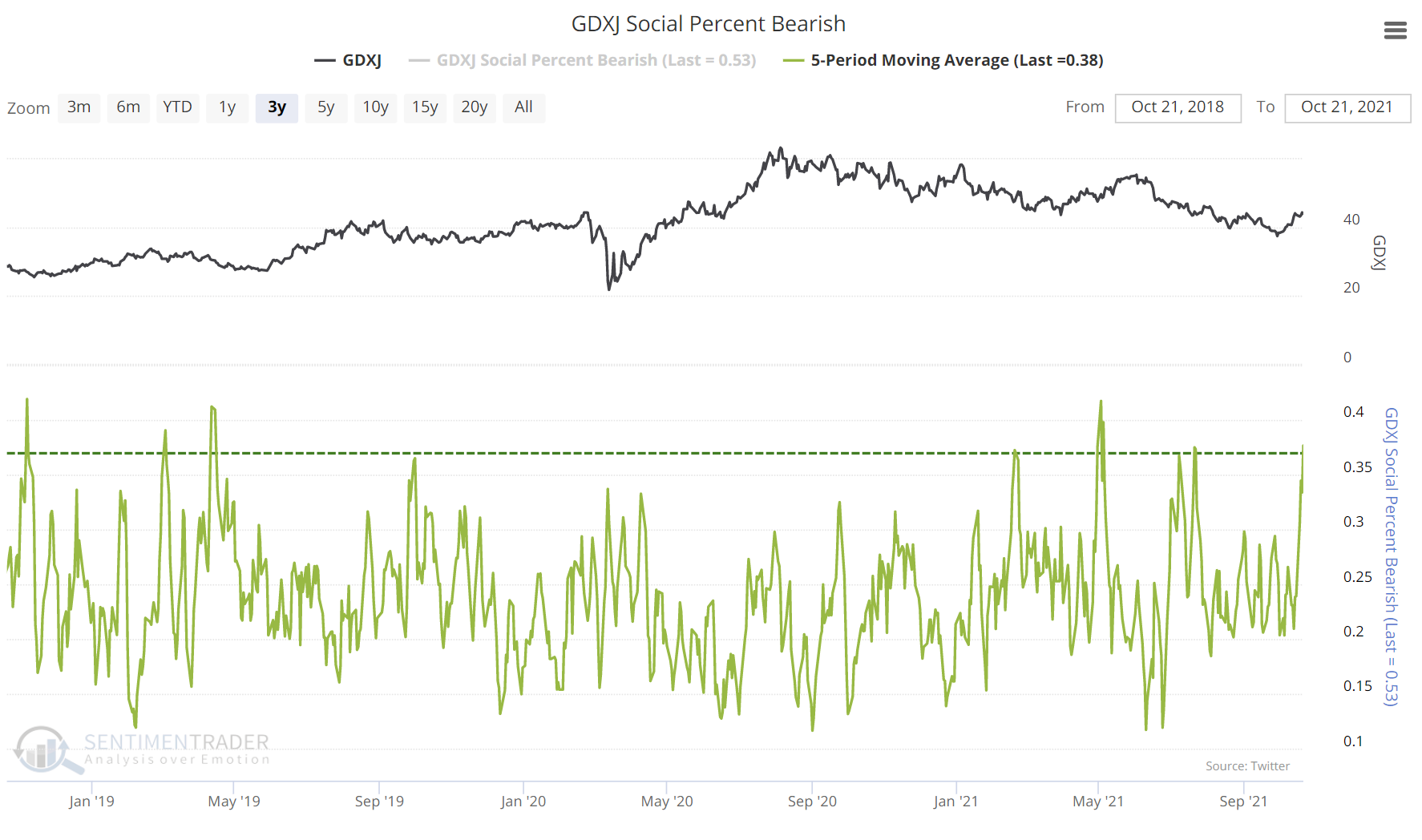 Related Posts:
---
Tagged As:
The post titled What Happens When Oil Prices Show Historic Momentum was originally published as on SentimenTrader.com on 2021-10-22.
At SentimenTrader.com, our service is not focused on market timing per se, but rather risk management. That may be a distinction without a difference, but it's how we approach the markets. We study signs that suggest it is time to raise or lower market exposure as a function of risk relative to probable reward. It is all about risk-adjusted expectations given existing evidence. Learn more about our service , research, models and indicators.
Follow us on Twitter for up to the minute analysis of market action.
Follow @sentimentrader