*While Jason is away this week, I'll be posting in Basic instead of Premium.
With stocks at all-time highs, here's what I'm looking at:
Small caps breakout
With the U.S. stock market continuing to make all-time highs, small caps are finally catching up. The Russell 2000 has broken out to a 1 year high: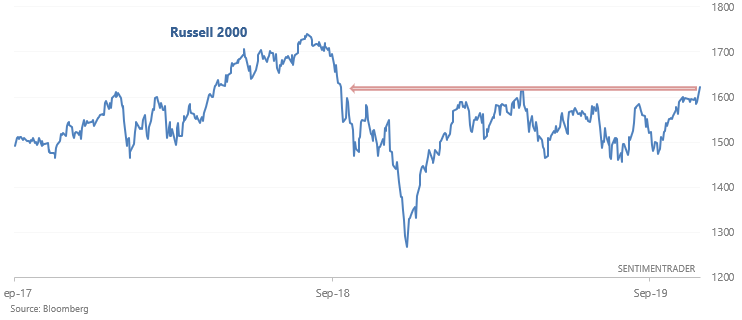 When it did so in the past, the Russell's returns over the next few weeks and months were mixed, but were almost exclusively bullish over the next 6-12 months. The one big exception was in 2002, as stocks fell in one last wave during the 2000-2002 bear market.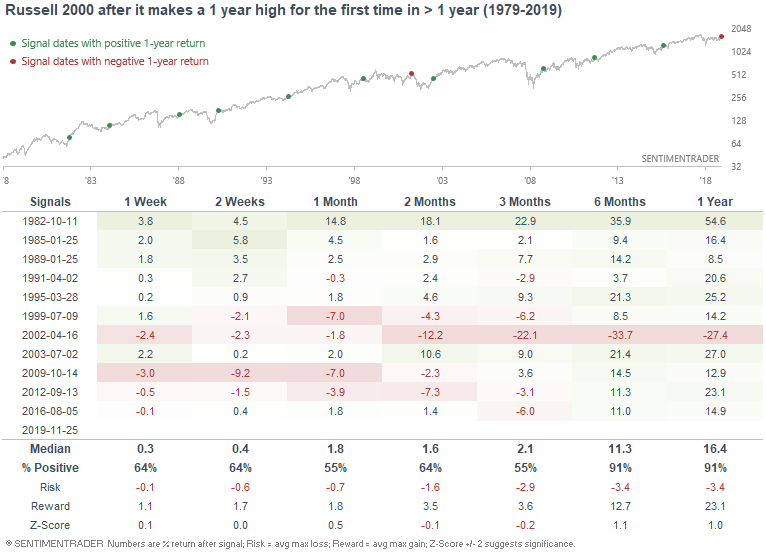 Similarly, the S&P 500 sometimes faced short term weakness, but were mostly bullish 6-12 months later: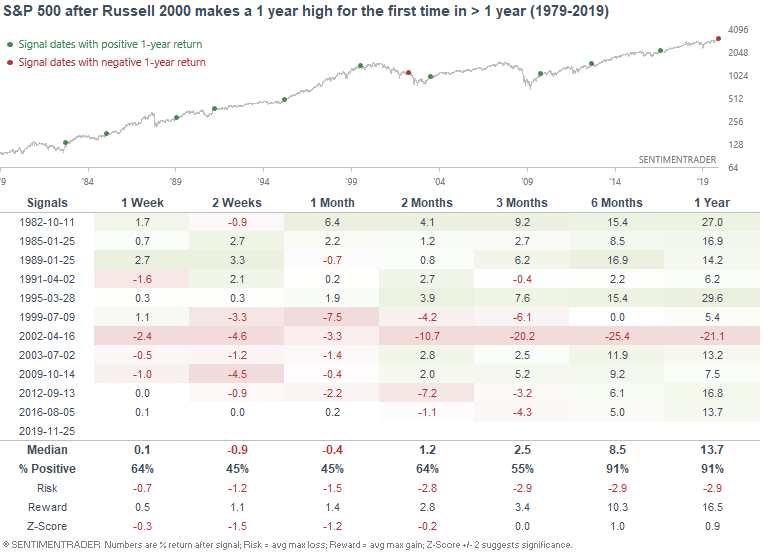 VIX
Volatility continues to compress. With the stock market's rally yesterday, VIX closed below 12 for the first time in over a year: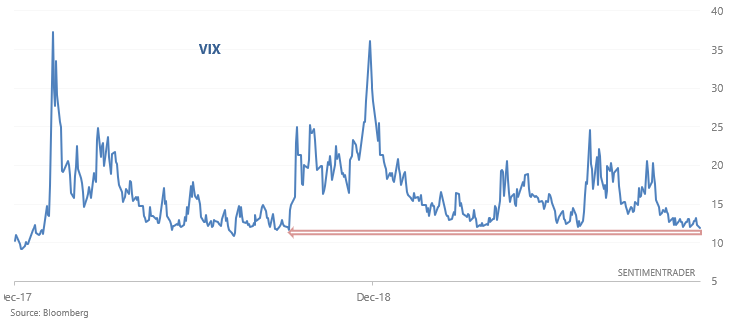 Such low VIX readings typically result in a volatility spike sometime over the next few weeks: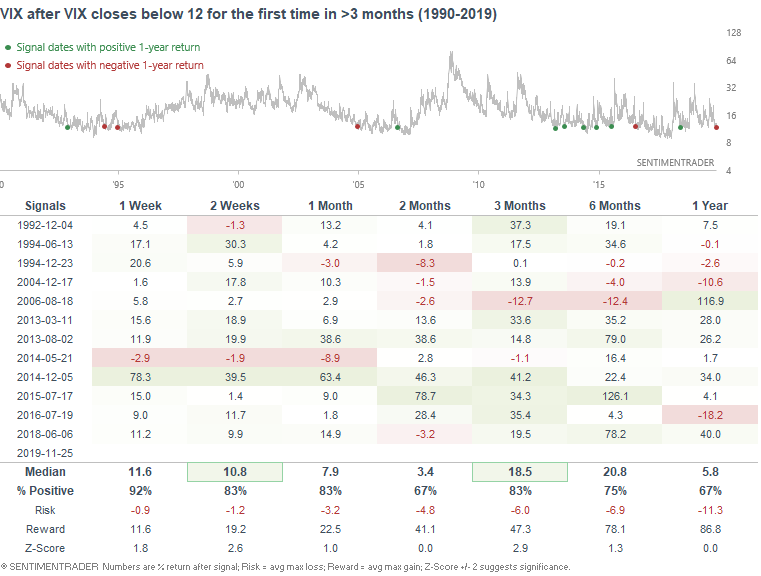 Meanwhile, this is also typically bullish for stocks over the next year. Bear markets typically don't begin when volatility is so low: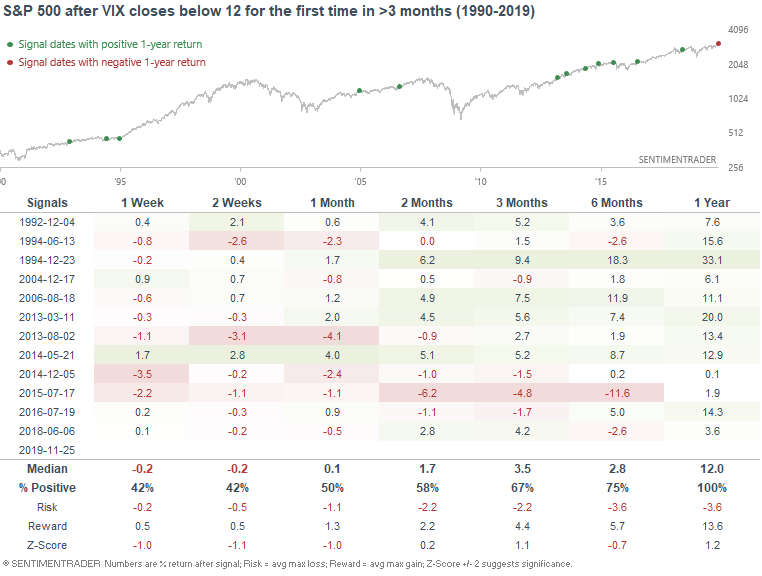 In addition, the VIX Put/Call ratio continues to spike (I looked at this last week):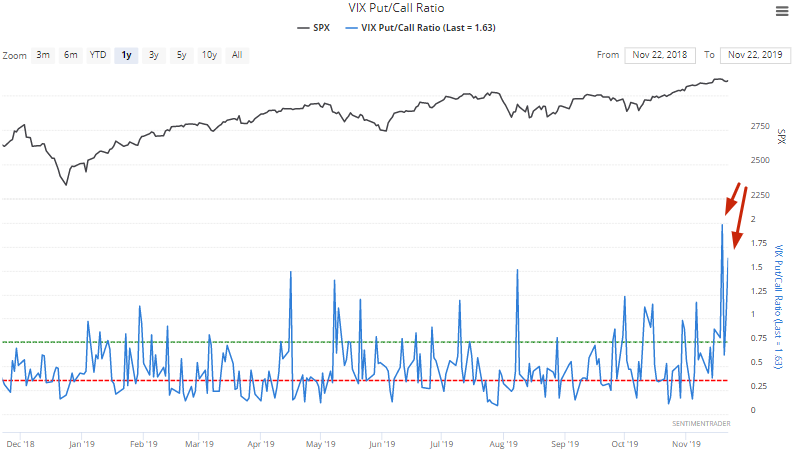 Multiple spikes in a short period of time, were more bearish than random for stocks over the next 2 months, while it was mostly bullish over the next 6-12 months: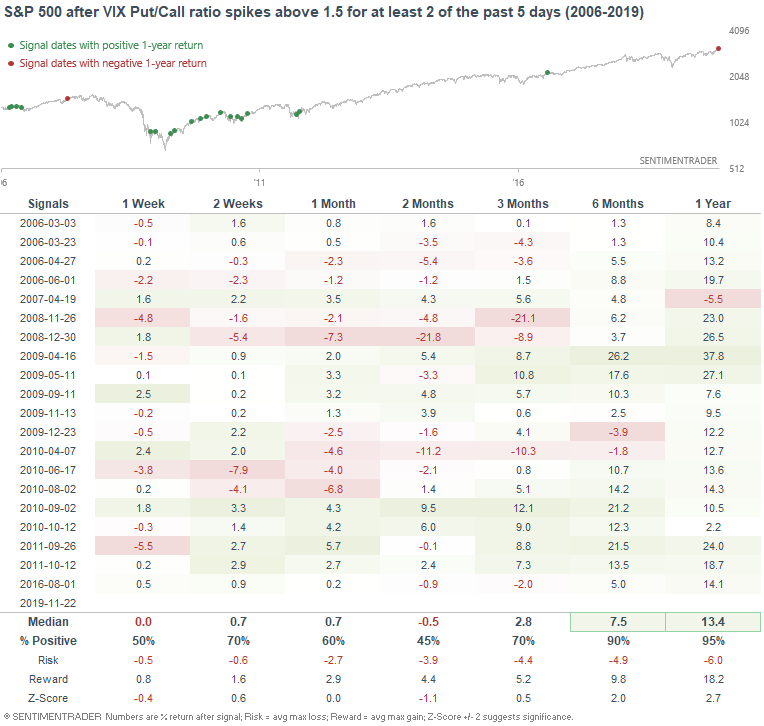 Healthcare sentiment
With healthcare surging since the start of October, XLV Optix's 10 day average has risen above 73: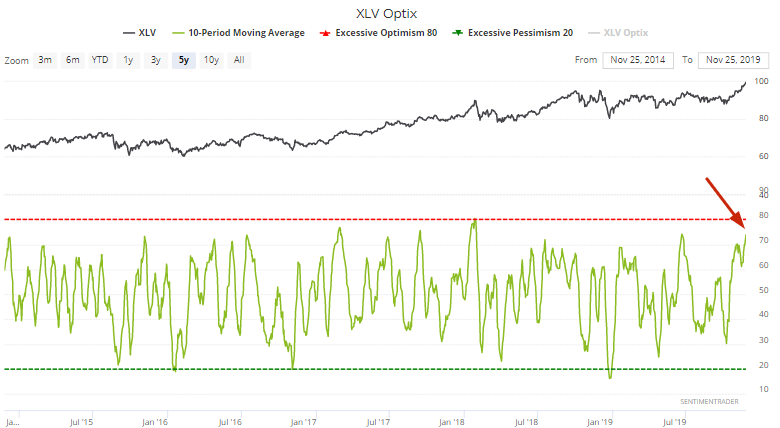 Such high sentiment readings in the past typically led to worse-than-average returns over the next 3 months:

Cocoa sentiment
Amidst a recent rally in agricultural commodities, cocoa Optix's 10 dma has become quite elevated:
Such high sentiment in the past was bearish for cocoa over the next several weeks and months: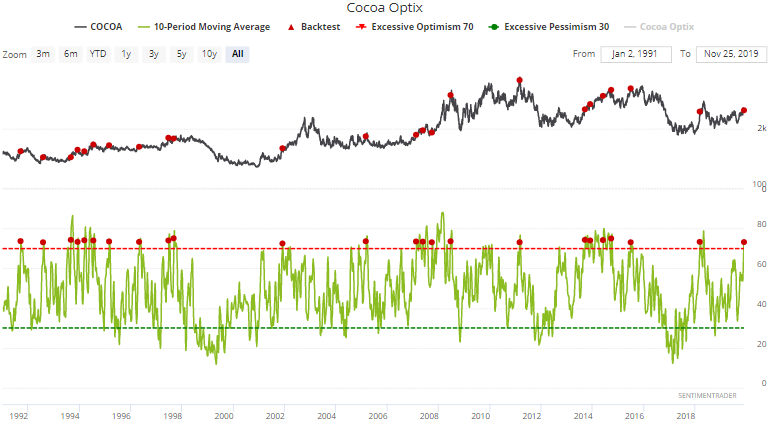 Global Money Supply
As Zerohedge noted, the S&P 500 has diverged from Global Money Supply over the past 3 weeks:
*According to Bloomberg, "this index sums up M2 for the Eurozone, China, U.S., Japan, South Korea, Australia, Canada, Brazil, Switzerland, Mexico, Russia, and Taiwan".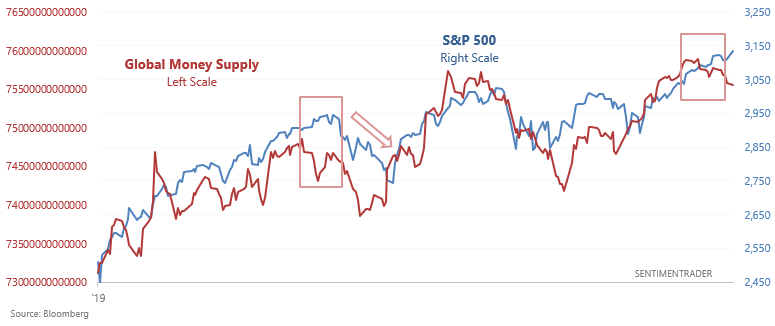 The last time this happened was in late-April, just before stocks fell. Is this divergence consistently bearish for stocks?
The following table demonstrates what happened next to the S&P after it rallied more than 1.7% over the past 3 weeks, while Global Money Supply fell more than -0.4%: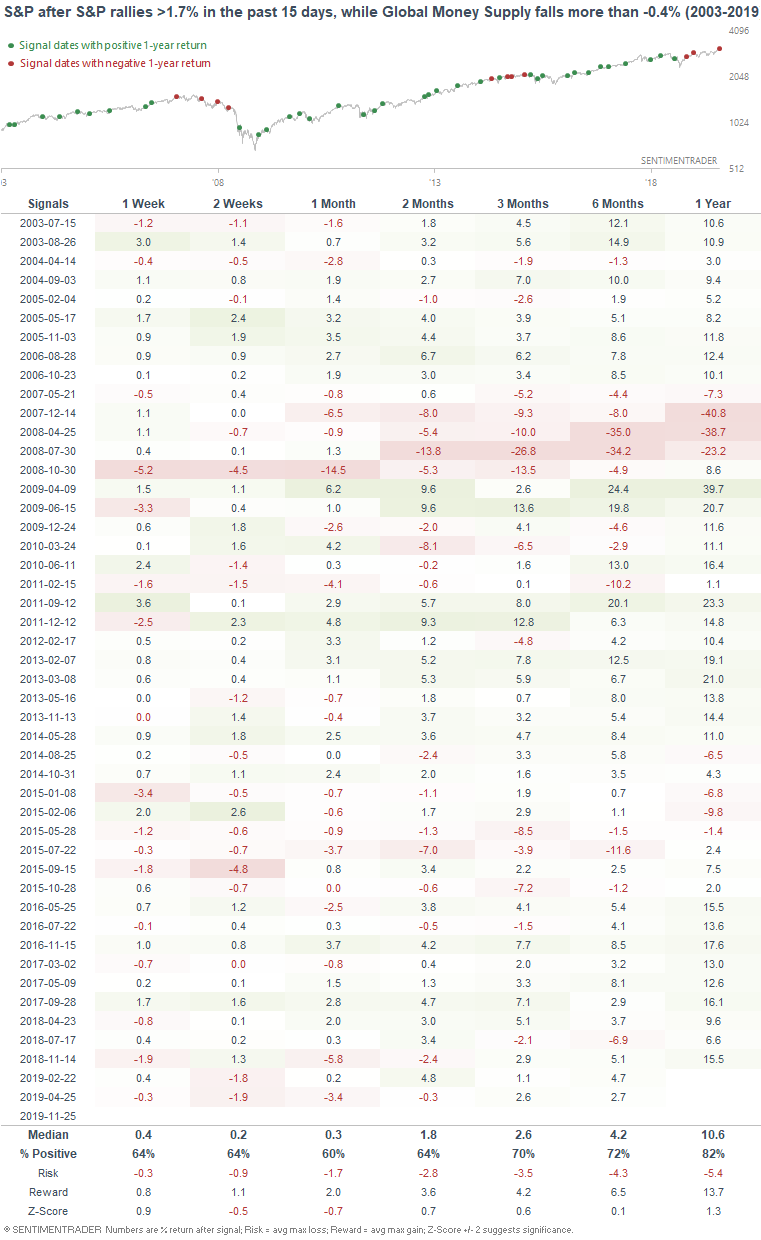 While the last 3 times this happened were short term bearish for stocks, it hasn't been quite a consistently short term bearish factor.
Outflows
And lastly, I would like to highlight an interesting chart that The Market Ear pointed out: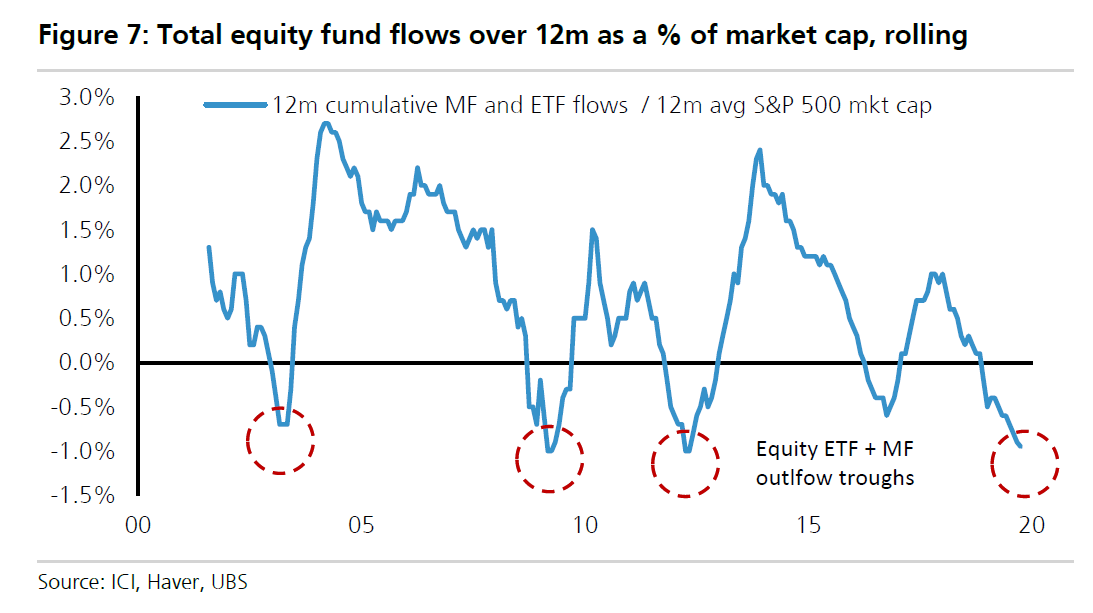 Fund flows continue to be a contrarian bullish factor for stocks on a longer term time frame.
---