What the "day after" means
---
---
One day doesn't make a trend. Usually.
That's a pretty sound principle, as we often one-day reactions reversed going forward, especially surrounding major events. Turns out that hasn't been the case so much with presidential elections.
The table below shows forward returns in the S&P 500 after it rallied in relief the day after an election.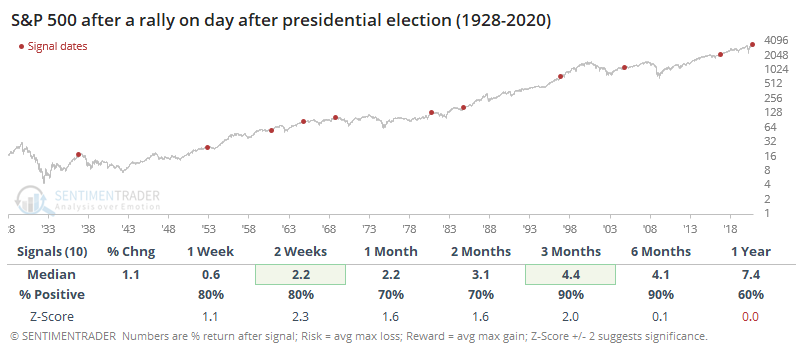 The returns in the table are as of the day after, so it indicates further gains, not including the gain on the day after. It was impressively consistent, with only a single loss 3 months later, and a positively skewed risk/reward ratio. All of the individual signals showed only minor losses, if any, on all time frames up to 6 months later.
These results differed significantly from those years when investors showed initial disappointment in the returns.
It's always questionable to extrapolate very short-term movements to longer-term returns. With that warning, these results should give a little comfort to bulls.
---
What else is happening
These are topics we explored in our most recent research. For immediate access with no obligation, sign up for a 30-day free trial now.
All signals showing when stocks rallied after an election (and when it didn't)
Internal momentum in the Nasdaq 100 and broader tech sector is turning positive again
---
Stat Box

Thanks to small-cap stock weakness, breadth on the NYSE was tepid on Wednesday. That session marked the only time in history when the S&P 500 rose more than 2% and yet there was more volume in declining securities than advancing ones. There were 5 times the S&P rose 1% or more with more declining than advancing volume, and the index fell over the next 2 months every time. These results should be taken with a grain of salt given the election machinations.
---
Sentiment from other perspectives
We don't necessarily agree with everything posted here - some of our work might directly contradict it - but it's often worth knowing what others are watching.
1. Options traders had a 6-year high in outstanding bets on the euro in July, and it's now coming back to neutral - Daily Shot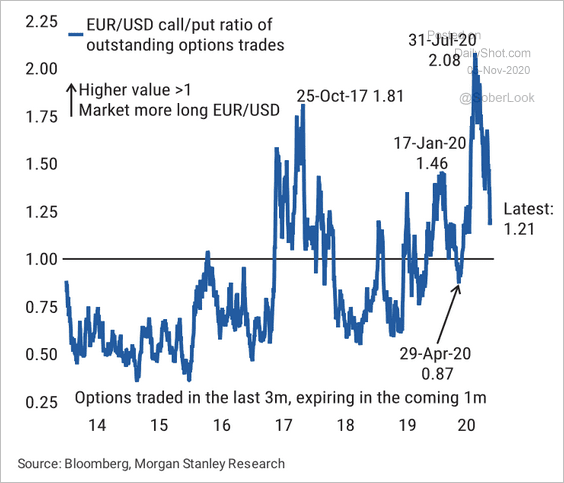 2. Investors are searching for less anxious-y things on Investopedia - Investopedia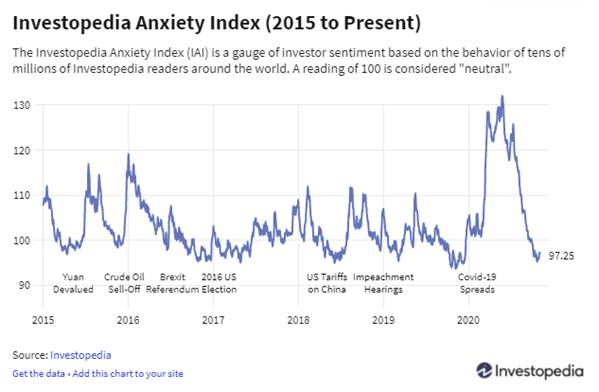 3. A handful of sentiment indicators are still showing quite a bit of optimism - IBD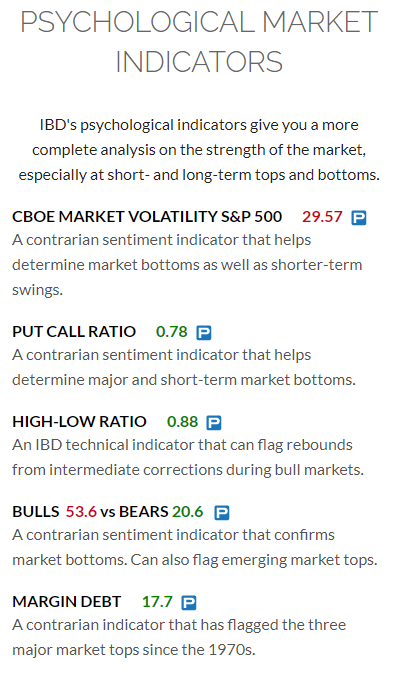 Related Posts:
---
Tagged As:
The post titled What the "day after" means was originally published as on SentimenTrader.com on 2020-11-05.
At SentimenTrader.com, our service is not focused on market timing per se, but rather risk management. That may be a distinction without a difference, but it's how we approach the markets. We study signs that suggest it is time to raise or lower market exposure as a function of risk relative to probable reward. It is all about risk-adjusted expectations given existing evidence. Learn more about our service , research, models and indicators.
Follow us on Twitter for up to the minute analysis of market action.
Follow @sentimentrader