What this model is saying about a new bear market
---
---
For the first time in half a year, there is more than a 50% probability that stocks will fall into a bear market in the coming months.
The Bear Market Probability Model climbed to a 50-year high in August 2018, then plunged to a 7-year low by May of this year. This is a model outlined by Goldman Sachs using five inputs covering fundamental, valuation, and price-based metrics.
The model will drop as conditions deteriorate until it reaches a trough during bear markets (usually). It will rise as conditions improve. This seems counter-intuitive, but a rising probability of a bear market tends to be a good thing, until it reaches a very high level.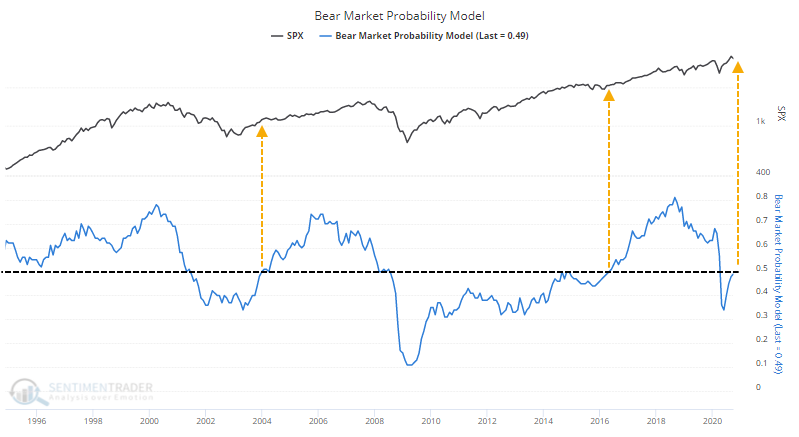 When the model had been below 50% for at least 6 months and then recovered, forward returns were mostly positive. Over the next 1-3 years, 10 of the 12 signals sported a positive return, though the average returns weren't very impressive.
---
What else is happening
These are topics we explored in our most recent research. For immediate access with no obligation, sign up for a 30-day free trial now.
Full results after Bear Market Probability rises above 50%
A look at the percentage of stocks, industries, sectors, and global indexes in bear markets
Forward returns over the past 50 years when global markets cycle from mostly bear markets to not
---
Stat Box

Even with the jump in stock indexes, there are at least a handful of stocks that show pessimism. Our database shows 10 stocks within the S&P 1500 that are currently trading above their 200-day moving averages and yet have a 5-day Optimism Index below 25.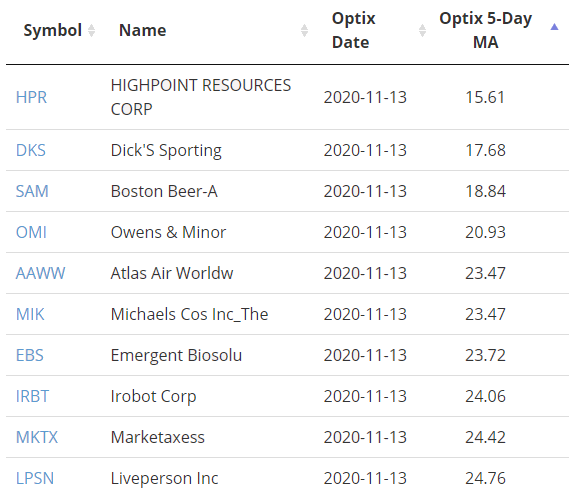 ---
Sentiment from other perspectives
We don't necessarily agree with everything posted here - some of our work might directly contradict it - but it's often worth knowing what others are watching.
1. After taking some losses due to a rising market, short sellers have tucked in their collective tails. Short interest among stocks in the S&P 500 has dropped below 6 billion shares. Sounds like a lot, but it's the lowest amount since the summer of 2019. High short interest tends to be a boon for stocks, while low short interest is...not, but it's less reliable as an indicator. [Schaeffer's Investment Research]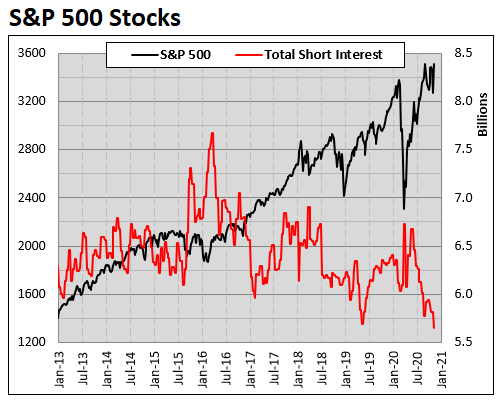 2. Global investors are back to loving stocks. An aggregate measure of sentiment has rebounded sharply from its pandemic lows and is now the highest in months, nearing the "euphoria" threshold. [Bank of America]

3. Who's not hot on stocks? Corporate insiders. According to Thomas Reuters, insider sales outnumber buys by nearly 60-to-1 in the latest week. But beware - there are seasonal influences on this data, and spikes in insider sales have not been effective at consistently leading to equity market declines. [Barron's]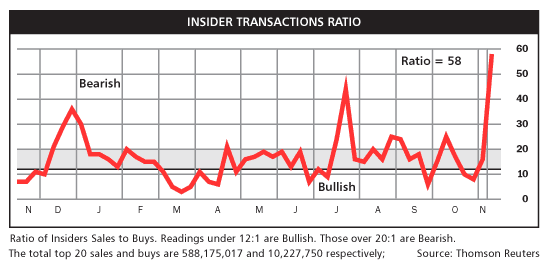 The post titled What this model is saying about a new bear market was originally published as on SentimenTrader.com on 2020-11-16.
At SentimenTrader.com, our service is not focused on market timing per se, but rather risk management. That may be a distinction without a difference, but it's how we approach the markets. We study signs that suggest it is time to raise or lower market exposure as a function of risk relative to probable reward. It is all about risk-adjusted expectations given existing evidence. Learn more about our service , research, models and indicators.
Follow us on Twitter for up to the minute analysis of market action.
Follow @sentimentrader