When Energy Stocks Did This, They Rebounded Every Time
---
---
Energy stocks are weak, and there has been a surge in them falling to their lowest prices in a month.
Last week, Dean shared a trading signal for the S&P 1500 Oil & Gas Exploration & Production sub-industry that suggested a cautious short-term outlook for the group. The energy sector weakened considerably on the day, enough so that 82% of energy stocks fell to at least a 1-month low, the most since last September.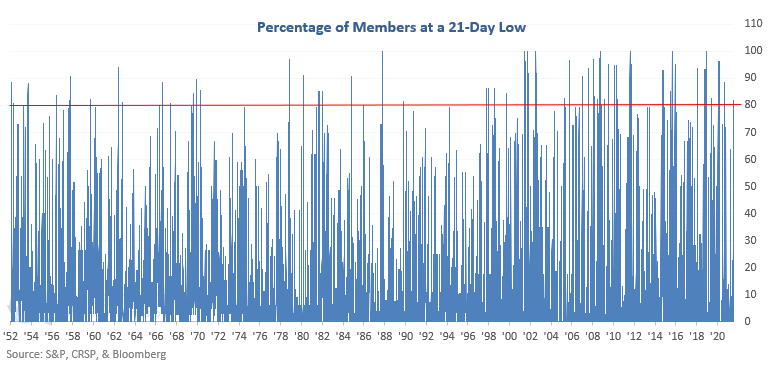 As much as possible, we like to look at indicators in different contexts. Signals in healthy environments tend to act much differently than those in unhealthy ones.
So, Dean looked at future returns in the S&P 500 Energy sector after a surge in those stocks falling to 1-month lows, but only when it triggered within about a month of the sector being at a 1-year high.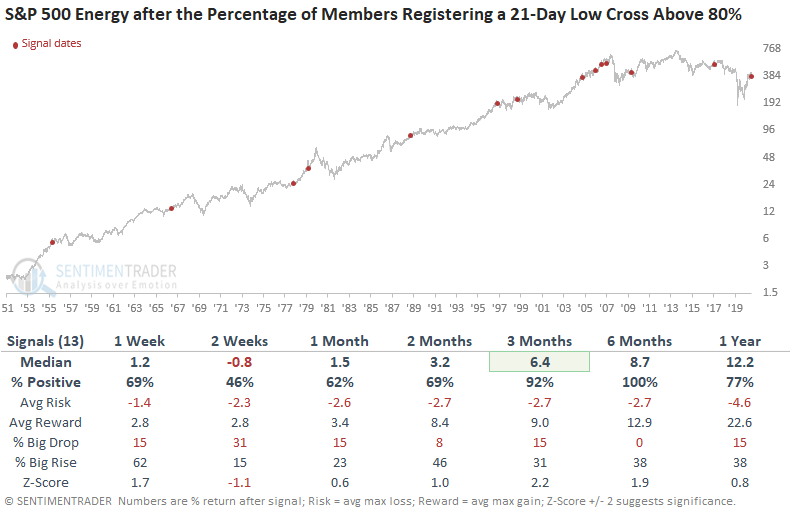 The sector often wobbled in the short-term, but it had a consistent tendency to rebound over the next few months. By six months later, it was higher every time.

---
What else we're looking at
Full returns in the energy sector after similar surges in 1-month lows
Different views of this surge in new lows and their impact on future returns
A look at the stamped into tech stocks, especially at this certain seasonal time of the year
---
Stat box



On Friday, there were 50 more stocks at 52-week lows than 52-week highs on the Nasdaq. That was the 3rd straight session, within a week or so of the Nasdaq Composite trading at record highs. That triggered a Titanic Syndrome warning for each of those days.
---
Etcetera
Record low participation. As the S&P 500 has been clustering at record highs, it's been doing so with fewer than 60% of its stocks trading above their 50-day moving averages. The latest Market Minute takes a look at what happened after similar signals.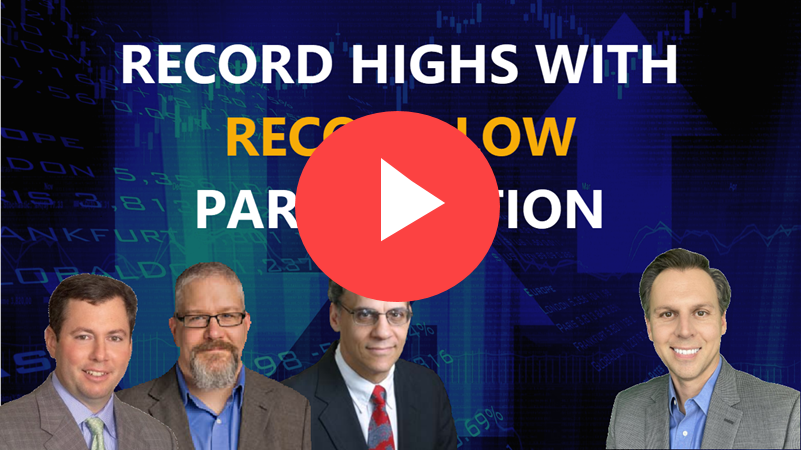 Energy savings. Every energy stock is trading below its 50-day moving average, yet the XLE fund is still above its rising 200-day moving average. According to our Backtest Engine, similar setups preceded a rebound in XLE over the next month after 13 out of 15 signals.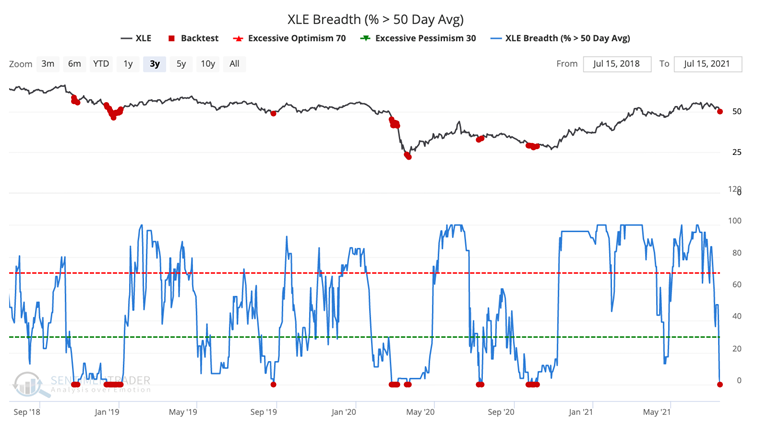 Leaving the casino. Traders pulled more than $2 billion out of the largest ETF in the world on Friday. Over the past year, SPY has lost more than $2 billion in a single day 37 times. Over the next two weeks, it rallied after 32 of those. If it doesn't this time, it will suggest something has changed in the environment.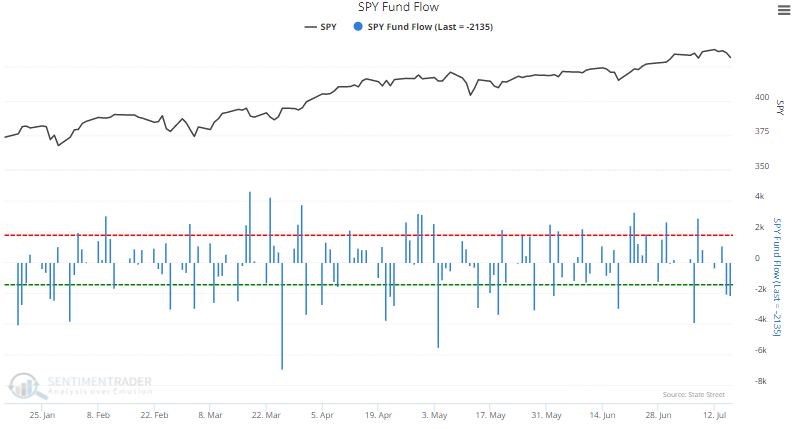 Related Posts:
---
Tagged As:
The post titled When Energy Stocks Did This, They Rebounded Every Time was originally published as on SentimenTrader.com on 2021-07-19.
At SentimenTrader.com, our service is not focused on market timing per se, but rather risk management. That may be a distinction without a difference, but it's how we approach the markets. We study signs that suggest it is time to raise or lower market exposure as a function of risk relative to probable reward. It is all about risk-adjusted expectations given existing evidence. Learn more about our service , research, models and indicators.
Follow us on Twitter for up to the minute analysis of market action.
Follow @sentimentrader