Within 1% of a High...And Investors Are Already Fearful?
---
---
Investors are already fearful, and that has to be a good sign for stocks.
That's the theory being bandied about regarding the CNN Fear & Greed model. The news organization's sentiment measure has been sliding lower for weeks and is nearing a level considered to show fear.
We used their publicly revealed inputs to recreate the model, though to generate more history and hopefully more accuracy, we use different inputs for high-yield bonds and put/call ratios. There is about a 95% correlation between the two versions.
Unlike at market bottoms, sentiment often peaks well ahead of prices. Investors become euphoric, push prices higher, then gradually lose interest. Bull markets need steadily rising optimism to continue rising, so this is an issue.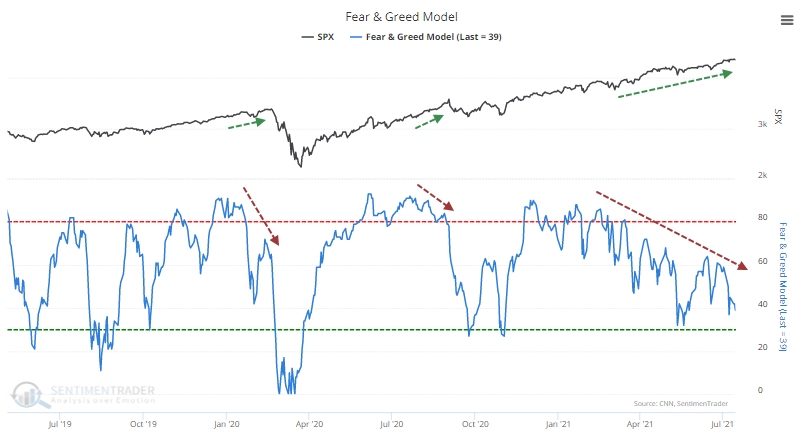 When we look at the numbers, we can see why declining Greed is not necessarily a good thing. We looked at every time since 1998 when the S&P 500 had been at a 52-week high within the past week, and Fear & Greed fell below 40.
Short-term returns were weak but not terrible. How about when the model fell below 40 but the S&P was still within 1% of its high at the time? Here, not so good. Over the next three months, the S&P 500 rallied only 25% of the time.

---
What else we're looking at
Full returns in the S&P following low readings in the Fear & Greed Model
What happens after Dumb Money Confidence finally crosses below Smart Money Confidence
An indication that energy is oversold
A mean reversion signal for airline stocks
What a persistently high Gamma Exposure has meant for stocks
---
Stat box



On Monday, crude oil futures suffered more than a 7% loss, the worst in more than 6 months. Of the 25 other times they suffered such a loss, the contract rebounded over the next week only 25% of the time, with a median return of -2.4%. The weakness tended to only be short-term, however.
---
Etcetera
Treasur[y] chest. The TLT Optimism Index soared to its highest point since March 2020 earlier this week.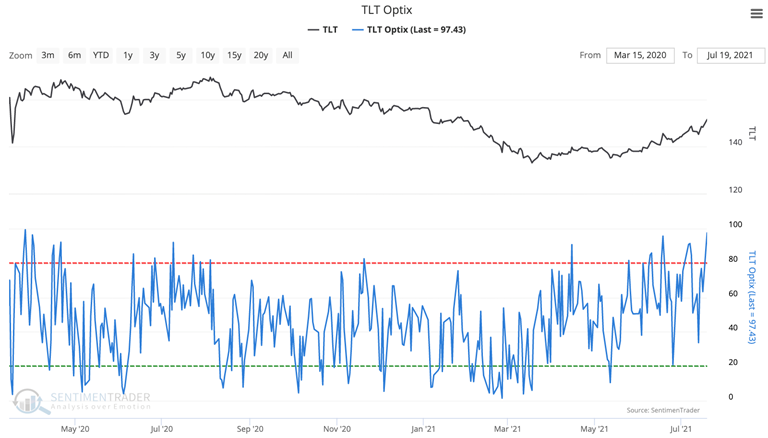 Bull rush. The market timers using the Rydex family of mutual funds once again have a large portion of their funds in the bullish versus inverse bond fund.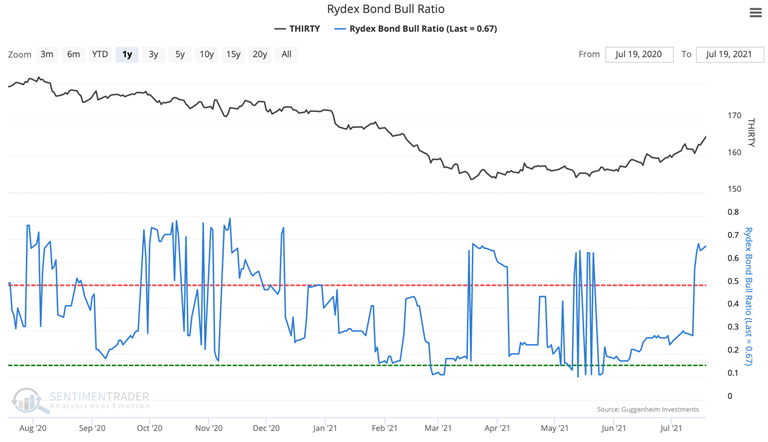 Catching up. Individual investors in the AAII survey have 72% of their assets invested in the stock market, moving to one of the highest levels since 1987.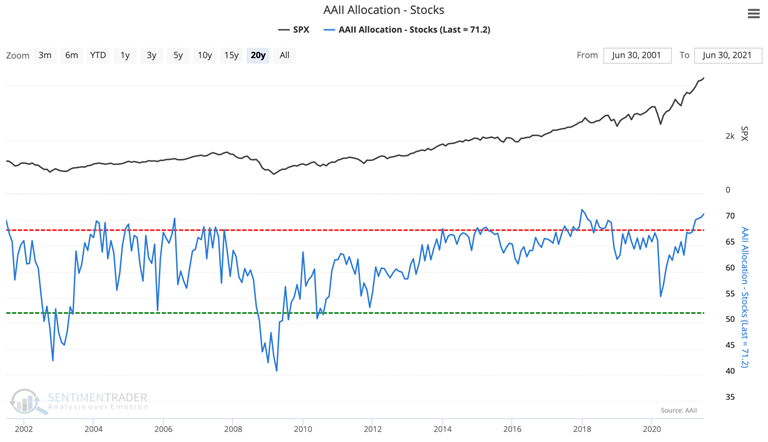 The post titled Within 1% of a High...And Investors Are Already Fearful? was originally published as on SentimenTrader.com on 2021-07-21.
At SentimenTrader.com, our service is not focused on market timing per se, but rather risk management. That may be a distinction without a difference, but it's how we approach the markets. We study signs that suggest it is time to raise or lower market exposure as a function of risk relative to probable reward. It is all about risk-adjusted expectations given existing evidence. Learn more about our service , research, models and indicators.
Follow us on Twitter for up to the minute analysis of market action.
Follow @sentimentrader