World Markets And Platinum Fall As Utilities Streak Higher
---
---
This is an abridged version of our Daily Report.
World stocks hit 2018 low
World stocks have hit a 200-day low while the S&P 500 is more than 8% above its own 200-day low. Similar setups led to a rebound in World stocks over the next 2-4 weeks.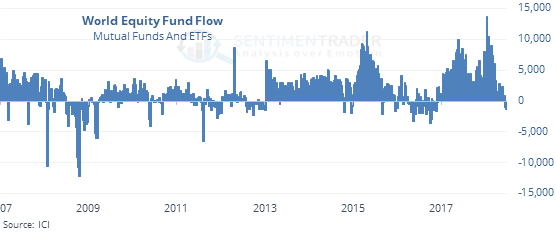 Compared to the S&P, World stocks outperformed every time over the next 2 months.
Best two weeks in 12 years
Utilities are on a 10-day win streak, their longest since 2006. When originating from near a 52-week low, similar streaks led to short-term weakness.
Buying the dip
Hedgers have aggressively covered short positions in platinum. When they've done this, and the metal then declined, it typically rebounded.
Ugly on the surface
The S&P 500 fund, SPY, gave up a gain of more than 0.75% intraday to close lower by more than 0.75% and a one-month low. Seems like a negative, but it has carved out a similar pattern 51 times, leading to a rebound over the next 3 days 75% of the time.
F
or access to the full report, indicators, charts, screens, and Backtest Engine, log in or sign up for a free 30-day trial today.
Related Posts:
---
Tagged As:
The post titled World Markets And Platinum Fall As Utilities Streak Higher was originally published as on SentimenTrader.com on 2018-06-28.
At SentimenTrader.com, our service is not focused on market timing per se, but rather risk management. That may be a distinction without a difference, but it's how we approach the markets. We study signs that suggest it is time to raise or lower market exposure as a function of risk relative to probable reward. It is all about risk-adjusted expectations given existing evidence. Learn more about our service , research, models and indicators.
Follow us on Twitter for up to the minute analysis of market action.
Follow @sentimentrader