Worldwide stock markets ease out of corrections
---
---
Investor behavior is like we see near the end, but markets are showing the signs we typically see during the beginning stages of a long-term recovery with thrusts in breadth and the percentage of securities hitting 52-week highs. It's very strange.
Among the signs of recovery, not just in the U.S. but worldwide, is that for the first time in more than 200 days, fewer than 20% of major world equity indexes are in corrections.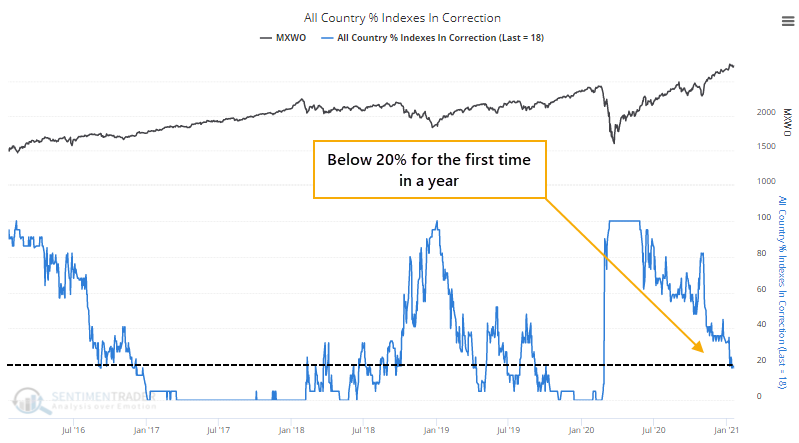 This ends one of the longer streaks since 1971 when more than 20% of countries had been in a correction at the same time.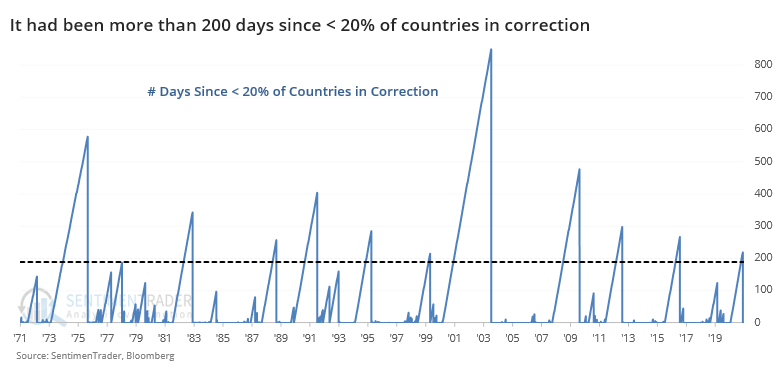 After other streaks ended, it was a good longer-term sign for world stocks. The MSCI World Index showed a positive return over the next 6 months every time, and over the next 9-12 months all but once. Losses were minimal, and the risk/reward was excellent.
What else we're looking at
A look at where we are in a typical Sentiment Cycle
What that means vs. the market environment
What happens to world markets, the S&P 500, small-caps and value stocks when there is a worldwide recovery
Forward returns since 1928 when more than 80% of NYSE securities are trading above their 200-day moving average
The benefits of a stock replacement strategy using options
What happens when XLF sees big ETF inflows
Active managers in the NAAIM survey are extremely confident but it doesn't mean what you think
Breadth has been pristine, but some recent worrying signs

Stat Box



On Thursday, the Nasdaq Composite rose more than 0.5% to a record high, yet fewer than

45%

of securities on the Nasdaq exchange advanced. That's only happened 9 other times in the past 35 years.
Sentiment from other perspectives
Confidence abounds across markets, not just in stocks. Commodities and industrial metals have seen outsized optimism as well. Bets on copper are now among the highest in 25 years. Source: BCA Research via Daily Shot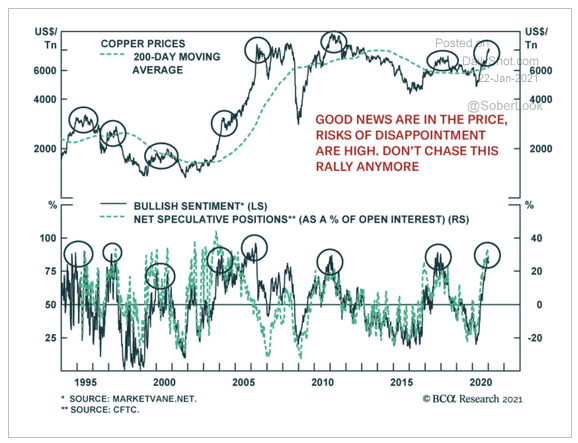 There is a high positive correlation between commodity markets and emerging market stocks, and the rally in the former has coincided with one in the latter. Bloomberg's proprietary Fear/Greed indicator is now in the danger zone for emerging stocks. Source: Bloomberg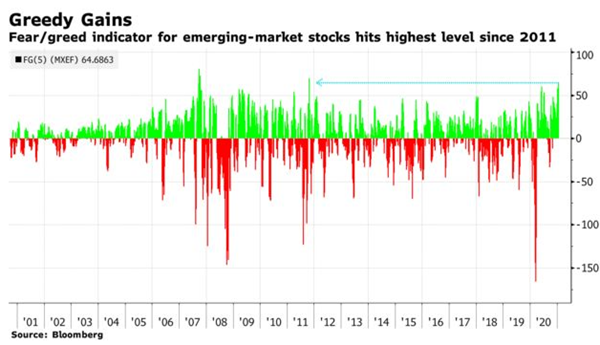 Optimism does tend to percolate when a market has suffered only 2 losing weeks in 4 months. Source: Bloomberg TV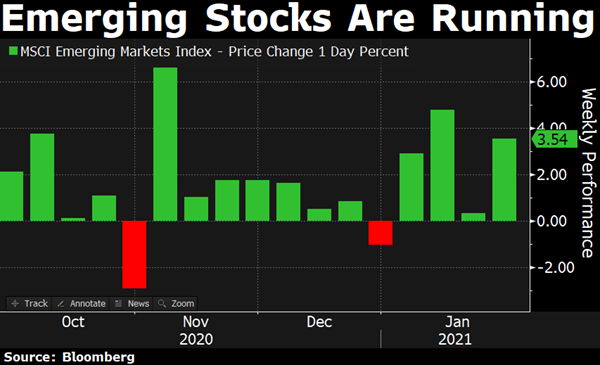 The post titled Worldwide stock markets ease out of corrections was originally published as on SentimenTrader.com on 2021-01-22.
At SentimenTrader.com, our service is not focused on market timing per se, but rather risk management. That may be a distinction without a difference, but it's how we approach the markets. We study signs that suggest it is time to raise or lower market exposure as a function of risk relative to probable reward. It is all about risk-adjusted expectations given existing evidence. Learn more about our service , research, models and indicators.
Follow us on Twitter for up to the minute analysis of market action.
Follow @sentimentrader