Yet Another Breadth Thrust to Frustrate Shorts
---
---
Just leave it to this market. Unbelievable.
Seemingly whenever something negative triggers, buyers show up immediately. We saw on Monday that the S&P 500's approach to its former high was accompanied by a negative McClellan Summation Index and more 52-week lows than highs on the NYSE.
No matter, stocks continued to rise, and breadth turned around. The switch was dramatic enough that more than 75% of volume on the NYSE flowed into advancing securities. It happened on Monday, too. And Friday.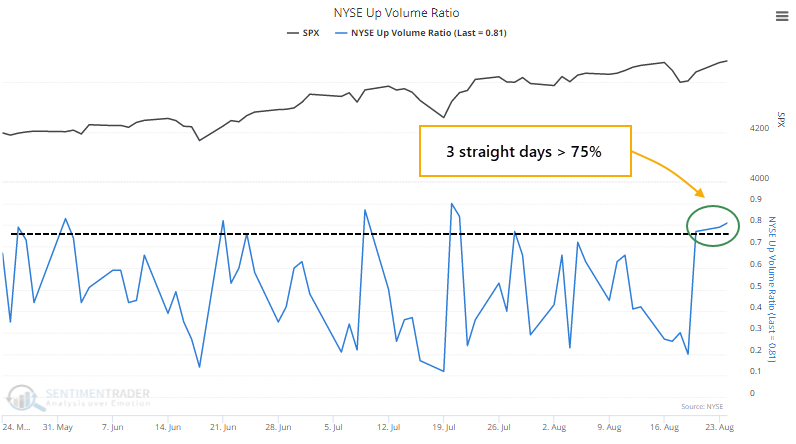 Over the past three years, this is only the 3rd distinct time that the 3-day average of NYSE Up Volume has neared 80% (lumping together the handful of post-pandemic thrusts as one).
Since 1928, there have been 86 non-overlapping periods with 3 consecutive days of 75% or greater Up Volume. Like we've seen so often, the primary highlight of thrusts like this is a remarkably positive risk versus reward ratio over the medium- to long-term.
Across all time frames, the S&P 500's average return was well above random, the average drawdown (risk) was a small fraction of drawup (reward), and there was a much higher probability of a big rise than a big drop.

---
What else we're looking at
Full details of forward returns after a 3-day breadth thrust, including when at new highs
What it means when microcap stocks show relative weakness
Gold hasn't made a new high in over a year - what that means for gold and miners
---
Stat box



The 4-week rate of change in corporate insiders buying shares of their own stocks in the Basic Materials sector has reached 161%, the highest velocity in more than 5 years.
---
Etcetera
A year of frustration. Gold hasn't made a new high in over a year. This can be especially troubling when the dollar has broken out to the upside after a long consolidation.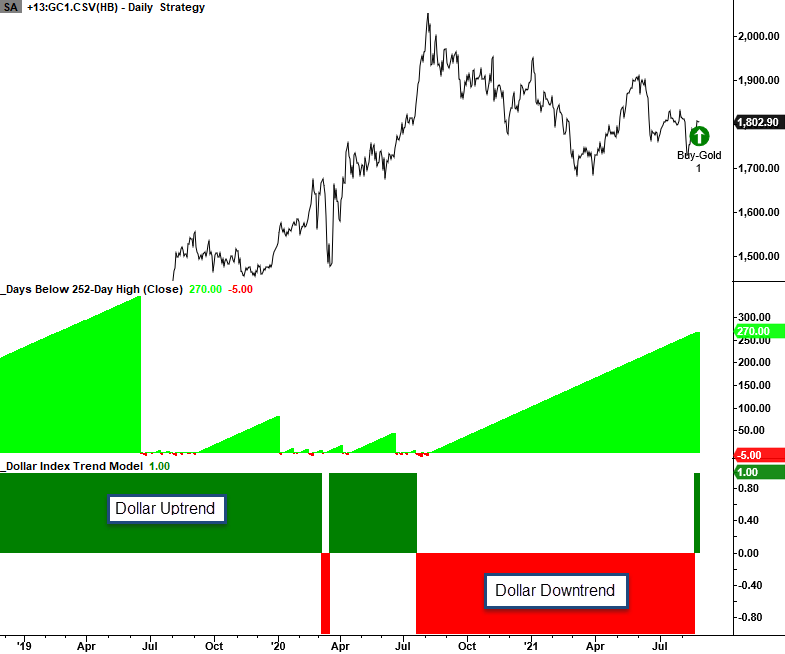 Micro underperformance. The relative performance of micro-cap stocks, some of the smallest in the public markets, is trying to perk up after a couple months. This is a sign of returning risk appetite among investors.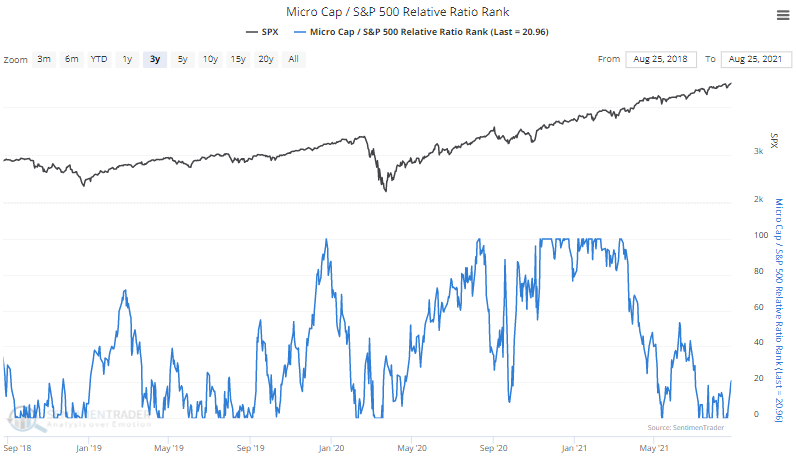 No pessimism. For the 29th time this year, not a single one of our core indicators is showing excessive pessimism.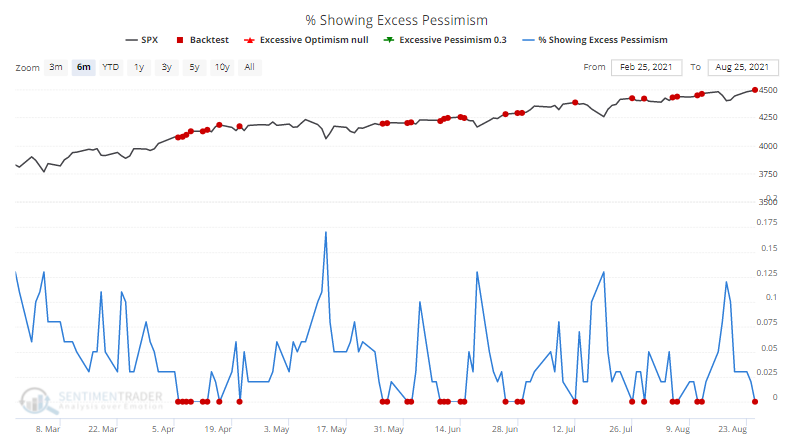 Related Posts:
---
Tagged As:
The post titled Yet Another Breadth Thrust to Frustrate Shorts was originally published as on SentimenTrader.com on 2021-08-26.
At SentimenTrader.com, our service is not focused on market timing per se, but rather risk management. That may be a distinction without a difference, but it's how we approach the markets. We study signs that suggest it is time to raise or lower market exposure as a function of risk relative to probable reward. It is all about risk-adjusted expectations given existing evidence. Learn more about our service , research, models and indicators.
Follow us on Twitter for up to the minute analysis of market action.
Follow @sentimentrader